Spinach and Feta Quinoa Bites
These Spinach and Feta Quinoa Bites are perfect for entertaining or meal prep – they make a great healthy snack or appetizer!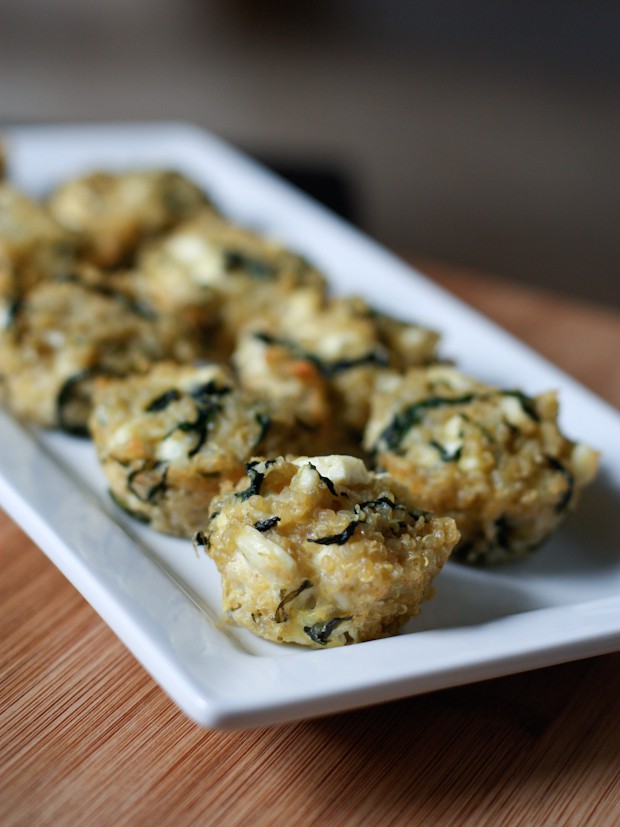 Can we talk about all the goodness happening in these little bites? Yep, I recently discovered the amazingness of quinoa bites and I have to warn you…I've become a bit obsessed.
These Spinach and Feta Quinoa Bites here today are a little extra special though. Not only are they insanely delicious, but they were made with double the love…for my friend Bev of Bev Cooks who is (very soon) expecting twins! To say that I'm happy and excited for Bev would be an understatement and I wish I could personally deliver her a plate of these myself.
Today, a great big handful of blogger friends are coming together to celebrate Bev and her soon-to-be bundles of joy with a Virtual Baby Shower. If you follow Bev then you already know she's incredibly hilarious and talented – her writing and humor honestly makes me laugh out loud all the time. Don't even get me started on her food, let's just say I want to eat at Bev's house pretty much every day. Her babies honestly have no idea how lucky they are to have such a special mommy!
Bev and I haven't had the chance to meet in real life yet (how the heck?) but knowing we are going to have little ones just a few months apart, I think it's time we plan a play date…(with wine! what do you think Bev??).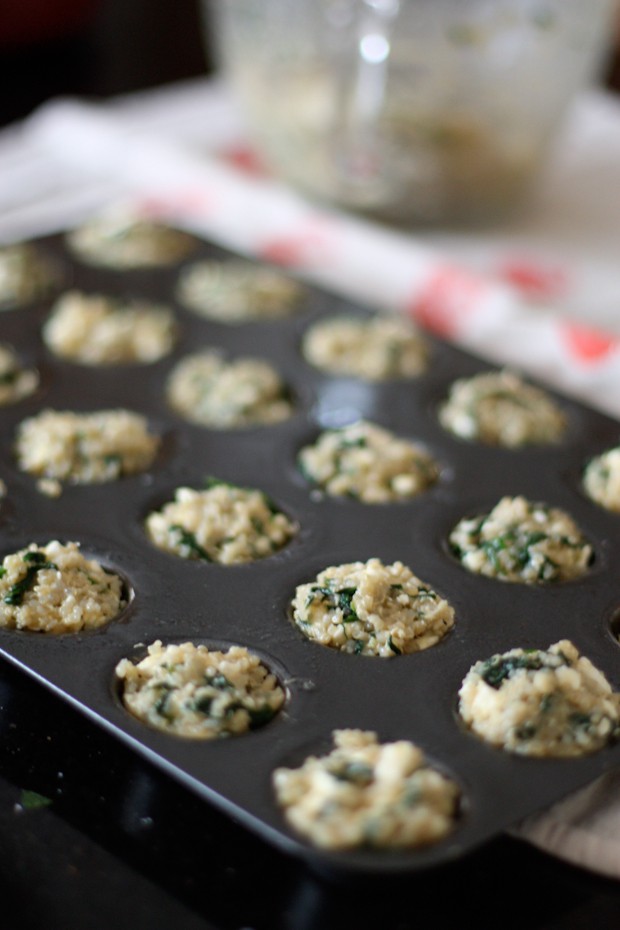 So let me tell you a little more about these quinoa bites. I started seeing quinoa bites on Becky's blog a few months back and I couldn't stop thinking of them. I cooked up some of her Ham & Cheese Quinoa Bites a few weeks ago and polished them off all on my own in just a couple of days. They seriously make the perfect snack (er, lunch) and I've made them a couple times a couple of different ways since. These Spinach and Feta Quinoa Bites were inspired by my favorite Greek dish Spanikopita and turned out fantastic. They would be a perfect (healthy) bite-sized addition to any get together, or just to have in your fridge for a quick bite. Enjoy!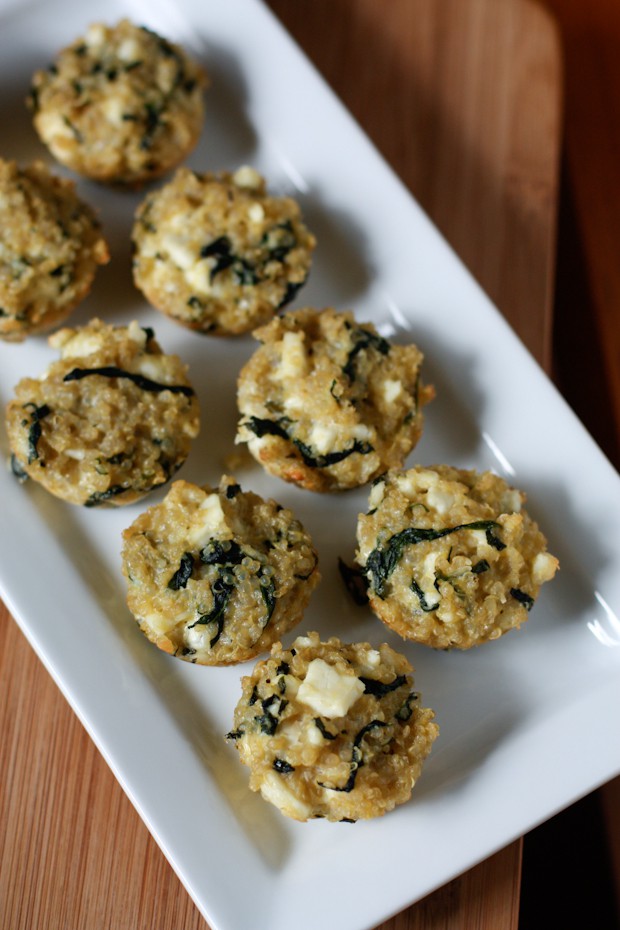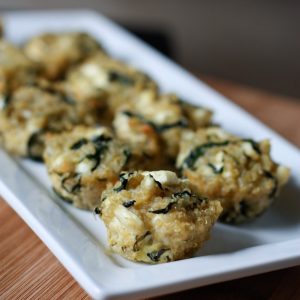 Ingredients:
1 cup uncooked quinoa
2 cups chicken broth or water
1 teaspoon olive oil
4 big handfuls fresh spinach, chopped (about 1 cup cooked)
1/2 medium onion, finely chopped
1/8 teaspoon garlic powder
1/4 teaspoon dried oregano
4 oz crumbled feta
pinch salt and pepper
3 eggs, lightly beaten
Directions:
Preheat oven to 350 degrees.
Cook quinoa (using water or chicken broth) according to directions. Set aside to cool.
In a large skillet, heat olive oil over medium heat. Saute onion until softened. Add spinach in batches until completely wilted down.
In a large bowl combine quinoa, spinach, garlic powder, oregano, feta, salt and pepper. Taste for salt and pepper and adjust before adding egg. Add egg to quinoa mixture and incorporate.
Spray mini muffin tin with nonstick spray. Spoon quinoa mixture into tin using a tablespoon, gently patting down.
Bake in 350 degree oven for 18-20 minutes. Season lightly with a sprinkle of coarse salt while cooling.Let cool for 5 minutes then remove from tin using a butter knife.
Makes about 36 quinoa bites.
Bite sized and good for you! These quinoa bites are perfect for sharing or having in your fridge for healthy snacking! Recipe inspired and adapted from So Very Blessed
Follow AggiesKitchen on Instagram and show us what recipes you are making from the blog! Use the hashtag #aggieskitchen - I'd love to see what you are cooking up!
Follow Aggie's Kitchen's board Quinoa Love on Pinterest.
Congrats Bev!! I'm truly so happy and excited for you, I can not wait to meet your little ones!! xoxo
Please take some time to check out all these amazing recipes Bev's friends created for her virtual baby shower (a big thanks to Julie and Lisa for organizing this!):
Appetizers
Bacon Cotija Guacamole from Gaby Dalkin
Gruyère Gougères from Shaina Olmanson
Lemon Risotto Tarts from Kelly Salemi
Goat Cheese Crostini with Pesto and Roasted Red Peppers from Liz Della Croce
Spinach and Feta Quinoa Bites from Aggie Goodman
Roasted Red Grape, Brie and Rosemary Flatbread from Laurie McNamara
The Fastest Appetizer Ever from Brooke McLay
Apple Pear Tart – Two Ways from Sarah Glyer
Drinks
Chocolate Chai Frappe from Brandy O'Neill
Cherry Chocolate Kiss Smoothie from Amy Flanigan
Cranberry Sorbet Bellini – Non-Alcoholic and Alcoholic from Megan Keno
Peppermint Mocha Affogato from Christina Lane
toasted marshmallow cream hot chocolate from Jessica Merchant
Pomegranate Lemonade Punch from Heather Christo
Salads
Kale Salad with Pomegranate, Orange and Pine Nuts from Rachel Gurk
Pear Cranberry Arugula Salad from Tracy Benjamin
Brussels Sprout Salad + maple roasted cranberry dressing from Katie Unger
Gluten-Free Pasta Salad from Lisa Thiele
Hearty Roasted Winter Vegetable Salad with Honey Ginger Dressing from Heather Disarro
Winter Citrus Salad from Catherine McCord
Entrees
Creamy Roasted Red Pepper and Chicken Sausage Pasta from Heidi Larsen
Eggplant Parmesan Lasagna from Joanne Ozug
cheesy chicken enchilada 'double' stacks from Lauren Grier
Jalapeno Popper Chicken Soup from Kevin Lynch
Thai Spiced Chicken with Coconut Cream Swiss Chard from Brandi Evans
Sausage and Red Pepper Quiche from Tasty Kitchen
Roasted Red Pepper Pasta with Goat Cheese from Julie Deily
Desserts
Soft and Chewy Oatmeal Coconut Chocolate Chip Cookies from Averie Sunshine
Glazed Dulce de Leche Pound Cake from Meagan Micozzi
Mississippi Mud Pie Brownie Ice Cream from Megan DeKok
Buttermint Frosted Sugar Cookie Cups from Shelly Jaronsky
4-Ingredient Peanut Butter Chocolate Cookies from Ali Ebright
Sweet Potato Creme Brulee from Brian Samuels
Whole Wheat Double Chocolate Mint Cookies from Aimée Wimbush-Bourque
Mini Chocolate Stout Cheesecake with Salted Beer Caramel Sauce from Jackie Dodd
Red Velvet Hi Hat Cookies from Kristan Roland
Double Chocolate Panini from Kathy Strahs