Southern Living's Spicy Pistachios
Since Super Bowl Sunday is coming up, I thought I'd put this recipe up to share with you since it would be a perfect one to serve your friends while watching the game and drinking a nice cold beverage.  I love pistachios, even more so with the shell still on.  I don't mind the work.  These spicy pistachios have such a nice kick to them from the chipotle, but with a hint of of cinnamon lingering in the background.  It's really a great flavor combination.  They are a little different from your traditional bowl of mixed nuts and are great to have around when you're feeling snacky.
What's fun (or not fun?) about pistachios is that it keeps you busy while watching the game or even a movie on movie night. Because they are so labor intensive as far as snacking goes, it's harder to over do it, and really since they are nuts they are a pretty healthy snack option in my opinion!
Try 'em, you'll like 'em.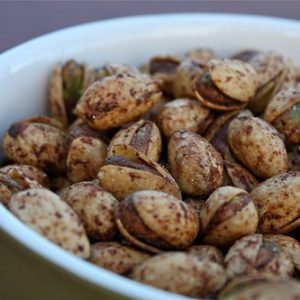 Ingredients:
3 tablespoons butter, melted
1/4 cup Worcestershire sauce
1 teaspoon ground chipotle chile pepper
1/2 teaspoon garlic powder
1/2 teaspoon ground cinnamon
4 cups shelled dry-roasted pistachios (about 8 cups unshelled)
Directions:
In large mixing bowl, stir together first 5 ingredients, add pistachios, tossing to coat. Arrange pistachios in a single layer on a lightly greased cookie sheet.
Bake at 350 degrees for about 20-25 minutes, stirring after 10 minutes. Let cool. Store in an airtight container.
Recipe from Southern Living magazine.
Follow AggiesKitchen on Instagram and show us what recipes you are making from the blog! Use the hashtag #aggieskitchen - I'd love to see what you are cooking up!
More spiced nuts to snack on:
Indian Spiced Mixed Nuts from The Lemon Bowl
Roasted Almonds with Smoked Paprika and Rosemary from Cookin' Canuck