Slow Cooker Barbeque Beans
Happy Friday everyone! We are off to Cocoa Beach this weekend for a family getaway and to celebrate Father's Day! I am so looking forward to relaxing near the ocean while the kiddies play in the sand and water all day… Nothing like the beach for a playground right?As much as I love to cook, I will tell you that I am welcoming the break in the kitchen. I've been feeling a bit burnt out lately, not really in the mood to cook much…it may have a lot to do with this close to 100 degree weather we are having. I can not wait to be waited on and to try out a couple of local beachside restaurants that were recommended to me. I love seafood and plan to eat lots of it this weekend! I hope to be able to get some good pics and give you a review of our eats…but dining out with my 2 little ones is a challenge in itself so I won't make any promises!
(Happy Father's Day Daddy! xoxo)
I'll leave you this weekend with an easy slow cooker recipe for beans. I created this recipe a couple of weekends ago and we really enjoyed it. Beans like this are a great summer side dish…serve them alongside some grilled BBQ chicken and vegetables and you've got yourself a meal!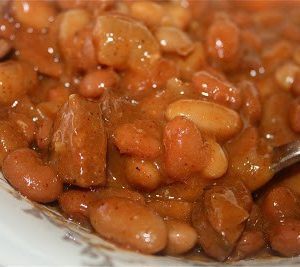 Ingredients:
2 cans pinto beans (drained but not rinsed)
1 large can cannellini beans (drained but not rinsed)
2 andouille chicken sausage links, diced (you can subsitute 1/2 package turkey smoked sausage)
1/2 cup ketchup
1/4 cup mustard
1/4 cup pure maple syrup
2 TB Worcestershire
2 TB chili powder
1 TB smoked paprika
small pinch of salt and big pinch of fresh ground pepper
Directions:
Combine all ingredients in crock pot and cook on high for 3-5 hours.
Follow AggiesKitchen on Instagram and show us what recipes you are making from the blog! Use the hashtag #aggieskitchen - I'd love to see what you are cooking up!