Salad Of The Week: Cool Cucumber and Quinoa Salad Bowl
There was a time, just a short couple of weeks ago, that I thought I may never eat a veggie again. I think these things happen during your first trimester, I know, but I was starting to get concerned when days (a week?) would go by and I may have only munched on a single baby carrot – mostly out of guilt. I missed my veggies, but not really. I loved the crunchy kettle chips or cheese and crackers better.
I think I'm starting to make up for lost time. I've been a little obsessed with eating healthy salads again (as long as I don't have to make them myself) and craving a few old friends. Some of these old friends came together randomly in a bowl one afternoon last week and became my new favorite lunch/snack to munch on. It feels good to know that it's nutritious (and possibly cancels out the plenty of potato chips that were in it's place not long ago) and it's incredibly easy to make and keep in the fridge for a few days.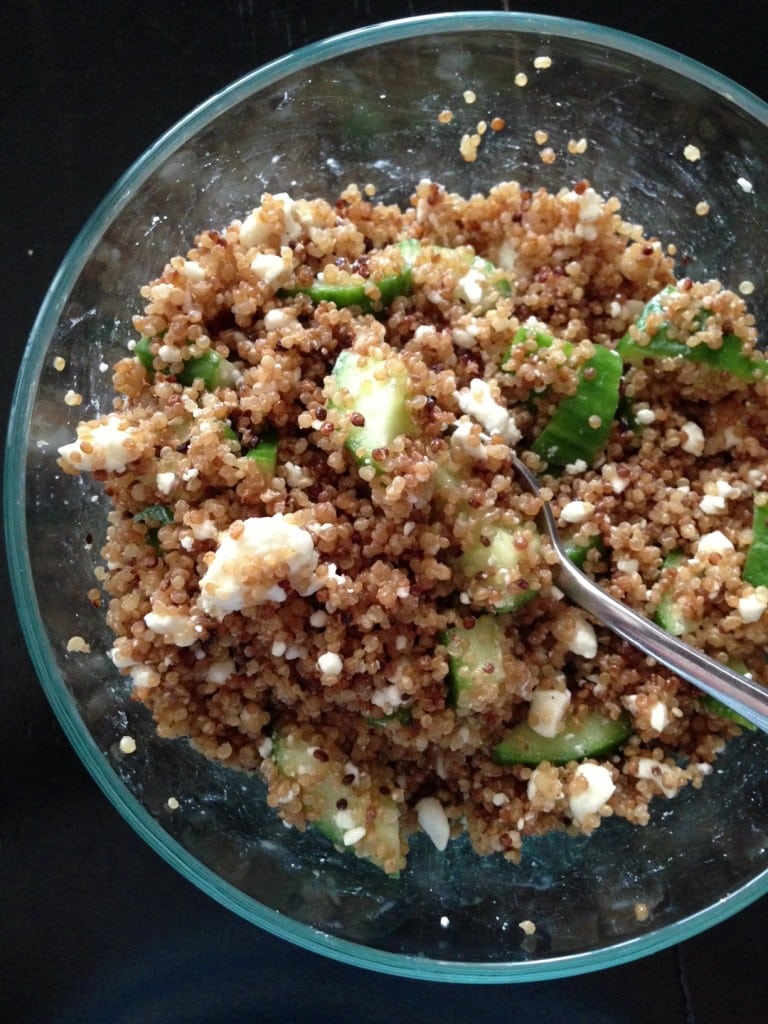 This is a no measurement type salad (aren't most salads that way?) though I've added some suggestions to the recipe in parenthesis. Just add as much of each ingredient as you'd like and make it your own special bowl of goodness. Enjoy!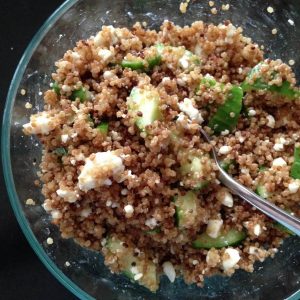 Ingredients:
cooked quinoa, chilled (I had 2 cups cooked)
seedless cucumber, quarter chopped (about 1/2 cucumber)
crumbled feta (2 oz or so)
diced avocado
splash of apple cider vinegar
drizzle extra virgin olive oil
good pinch salt and pepper
Directions:
Combine chilled quinoa with cucumber, feta, vinegar and oil in your serving bowl. Add avocado, salt and pepper and gently mix together.
If not serving immediately, combine first batch of ingredients and add avocado right before serving/eating. Enjoy!
Follow AggiesKitchen on Instagram and show us what recipes you are making from the blog! Use the hashtag #aggieskitchen - I'd love to see what you are cooking up!
Follow Aggie's Kitchen's board Aggie's Kitchen Recipes on Pinterest.