Roasted Garlic and Cauliflower Pizza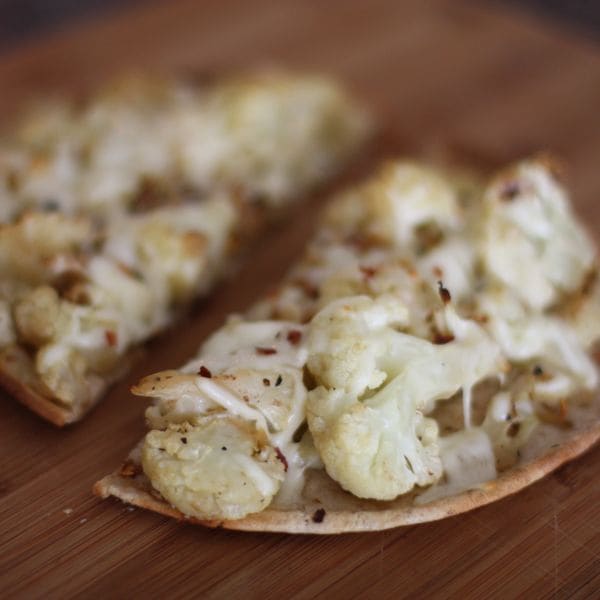 There's a pizza place in my area that my family and I LOVE to eat at. It's one of those pizza places that has a coal fired oven where the pizzas come out nice and crisp, well done and in our opinion, just perfect. They have the best toppings (Italian finger peppers anyone?? HOT HOT HOT!), garlic rosemary chicken wings cooked in the same oven smothered in grilled onions and served with perfect foccaccia triangles, huge salads and great beer and wine. The atmosphere is easy, fun, and family friendly – a good place to be. Just the thought of a visit to Anthony's makes my mouth water…no lie.
The only problem? It's a small hike from our house. About a 35-40 minute hike out of our small, quiet piece of suburbia to be exact, and really that's just a bit too far to drive for Friday night pizza as far as I'm concerned. Sigh. It is what it is…and what it's become for us is a treat that we try to enjoy every few months (birthday dinners!) or if we happen to be driving through the area like we found ourselves just a couple of weekends ago on our way back from Sanibel.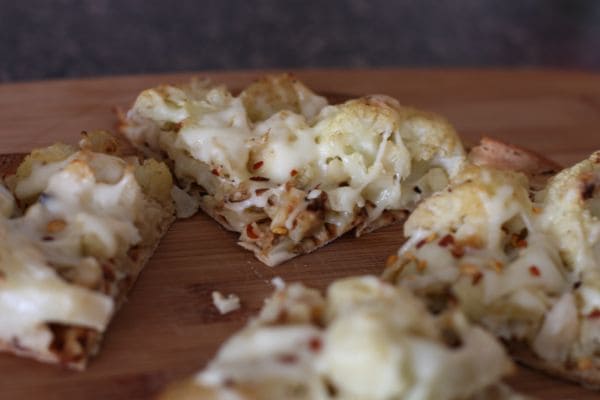 For the longest time, I just ate what the rest of the family ordered (1/2 cheese, 1/2 pepperoni – no offense, but bo-ring). I ventured out a couple of times and tried the hot finger peppers that were oh my goodness so deliciously full of crazy heat but just a bit too much when there's no one else to share with. One night I got a little adventurous and ordered one of their specialty pizzas off the menu that I had heard was pretty awesome…their roasted cauliflower pizza (<—- the real deal). People, this has become one of my most favorite foods on the planet. I'm obsessed. You have no idea how happy I am that no one else in my family will go near this pizza, because I get to take home all the leftovers from my small pie and eat it for days…all. by. my. self. Besides the fact that their signature "almost-burnt" crust is amazing all on its own, the glorious topping of roasted cauliflower, garlic and cheeses and golden breadcrumbs really tastes like none other.
This humble little flatbread pizza I am presenting to you today gives their pizza absolutely no justice. It's really kind of an embarrassing lazy home version of theirs, but does the job of holding me over till next time, which is all that matters.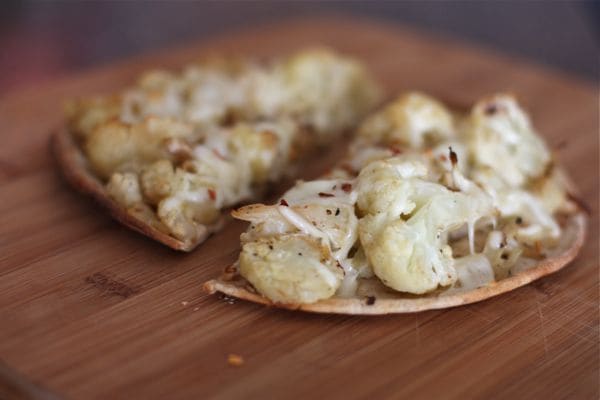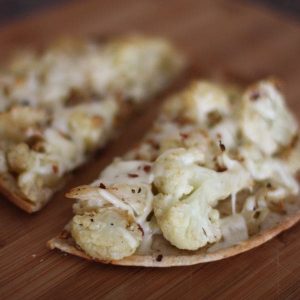 Ingredients:
1 head cauliflower, cut into small florets
6-7 cloves garlic, smashed with a knife and peeled (the amount of garlic is really up to you! the more the better for me)
2-3 tablespoons olive oil
good pinch of salt and fresh ground pepper
flatbreads or pita breads
shredded mozzarella cheese
Parmesan or Romano cheese
red pepper flakes, for serving
Directions:
Preheat oven to 425 degrees.
In a large bowl, toss cauliflower florets with garlic, olive oil, salt and pepper. Place into large baking dish.
Bake your cauliflower and garlic in the oven for 25 minutes, gently tossing halfway in between. Cauliflower is ready when golden brown and very fragrant.
To make flatbreads, take your pita (or flatbread) and top with cauliflower and garlic topping. Top with shredded mozzarella and Parmesan or Romano cheese and bake in oven for 5-7 minutes or until cheese is melted and bubble.
Sprinkle with Parmesan and red pepper flakes and serve with a salad for a light meal.
Follow AggiesKitchen on Instagram and show us what recipes you are making from the blog! Use the hashtag #aggieskitchen - I'd love to see what you are cooking up!
(Disclosure…this pizza place has no idea who I am, however I have tweeted my love for them several times. This pizza was made on my own immediately after running out of my most recent leftovers.)
Check out my Pinterest board for more pizza recipes.
Follow Aggie's Kitchen's board Pizza & Flatbread on Pinterest.