Peppers and Eggs Breakfast Pitas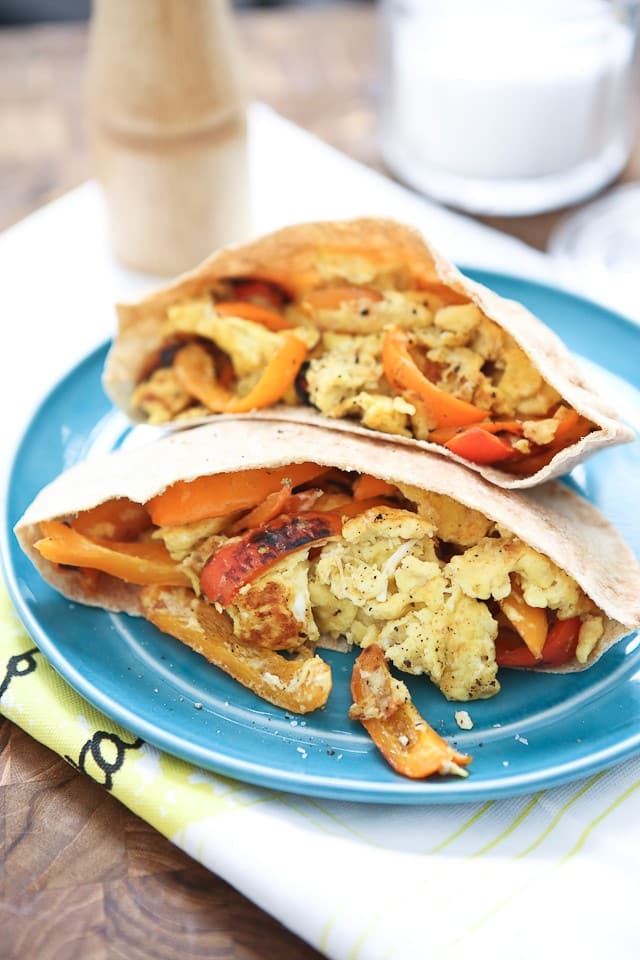 My parents have owned a pizzeria since I was 4 years old. I have so many memories of sitting in a booth in our pizza shop in New York coloring on white paper plates and playing with pizza dough (our version of play-dough) for hours. My kids have no idea how good they have it, ha ha! I don't ever remember complaining about being there (though my mom might have a different memory) and looking back I would never change a thing.
The best part of your parents owning a pizzeria or restaurant? Obviously, the access to the food. That's a no brainer. I can't tell you how many slices of (good, NY style) pizza I've had as my after school snack.
Peppers and eggs has always been an item on my family's restauarant menus for as long as I remember (we have owned 3 over a span of over 30 years). I think it's definitely a NY Italian thing because I recently saw it on the menu of our local pizza shop and it brought a smile to my face. My husband actually ordered it and it was so so good. Peppers and eggs is traditionally served on a long toasted Italian roll, loaded with mozzarella cheese. The combination of soft, toasted Italian bread and the peppers, eggs and cheese is just perfection.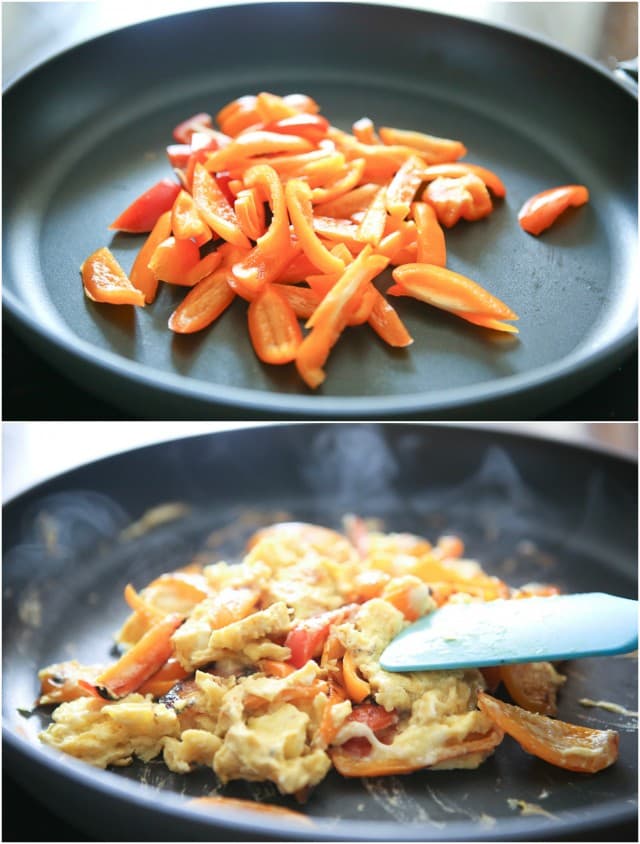 Obviously, my version is not the same. It's kind of the lame version actually, ha ha. But the reality is, crusty Italian bread is no longer part of my daily diet so I try to find alternatives to my favorites whenever I can. This is where these Peppers and Eggs Breakfast Pitas come in.
Have you tried this pita bread? It's my favorite. (this is not a sponsored post)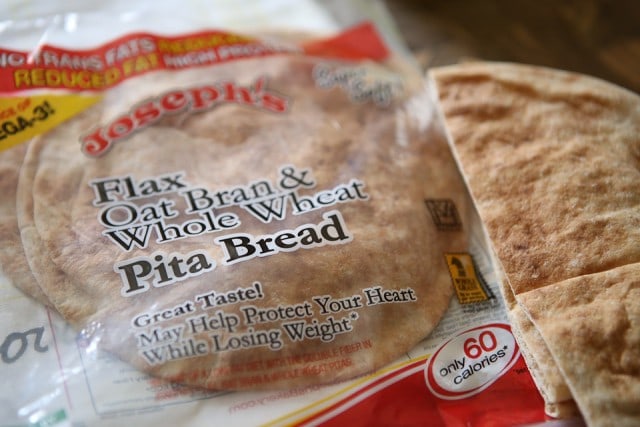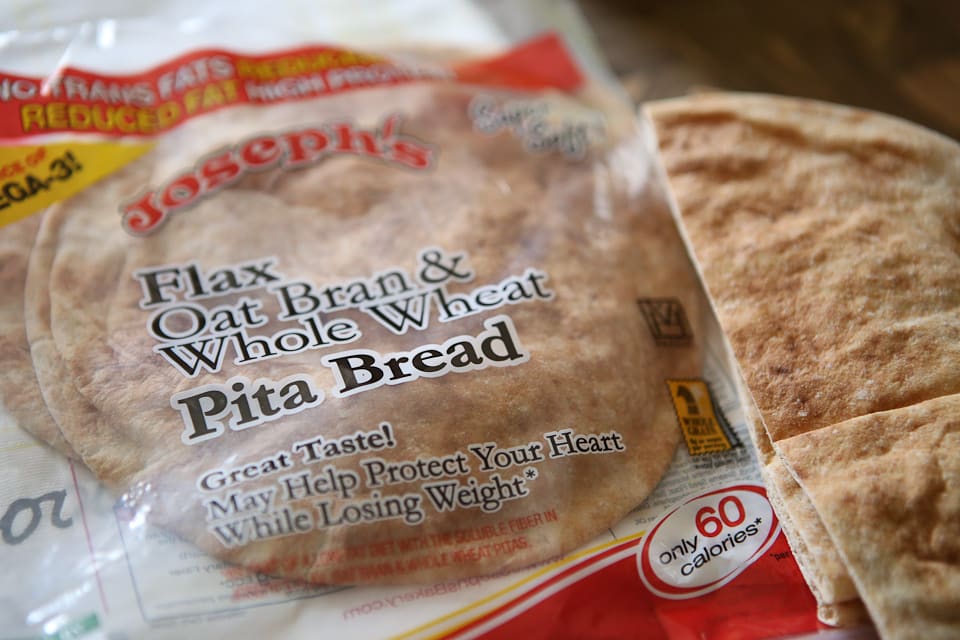 Lots of good ingredients, soft and makes an awesome pizza too. (Check out my latest post on Produce for Kids – Healthy Ways to Stuff (or Top) a Pita for more ideas).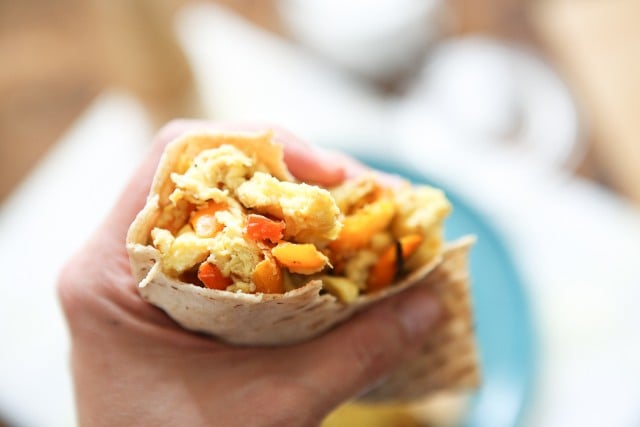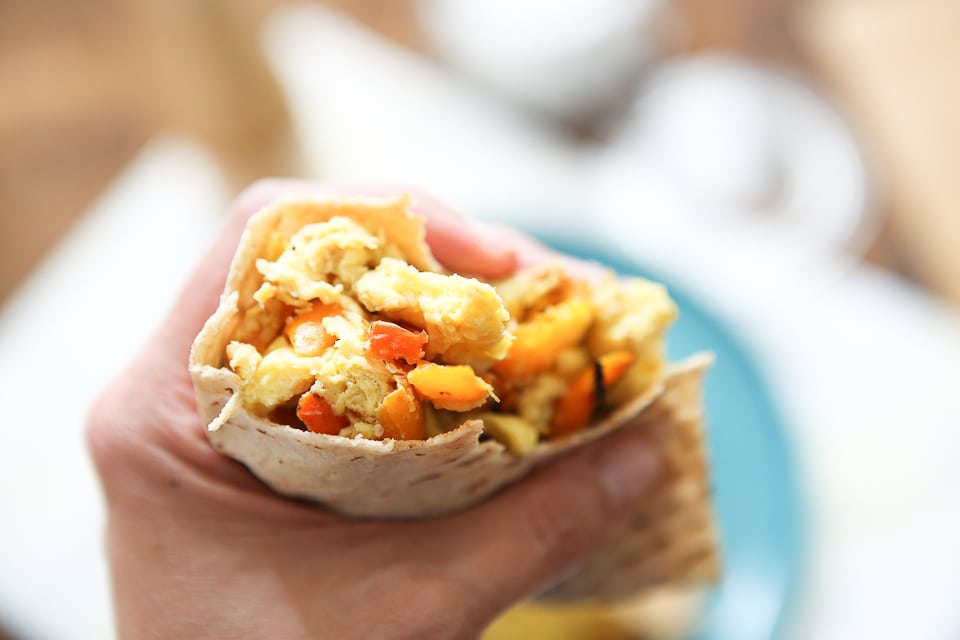 If you are looking up for a way to change up your same old egg breakfast (I always am) give these Pepper and Egg Breakfast Pitas a try! Obviously they make a great lunch or dinner option too, can't beat an easy and healthy breakfast for dinner like this one.
Hope you are having a great week!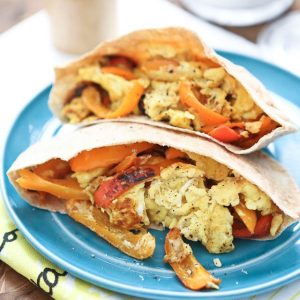 Ingredients:
1 tablespoon olive oil
1 large bell pepper, sliced (I used two baby bell peppers)
coarse salt and pepper
4 eggs, whisked
1/2 cup shredded mozzarella cheese
1 pita, cut in half and split open (tip: put in microwave for about 20 seconds to soften first)
hot sauce, optional
Directions:
Heat olive oil in a large nonstick skillet over medium heat. Add peppers, season well with salt and pepper. Let cook for 8-10 minutes until peppers start to soften.
Slowly add whisked eggs and cheese to skillet, stirring into peppers. Lower heat a bit and continue to stir until eggs are cooked through. Season with salt and pepper to taste.
Stuff each pita half with egg and pepper mixture. Serve with hot sauce, optional.
Follow AggiesKitchen on Instagram and show us what recipes you are making from the blog! Use the hashtag #aggieskitchen - I'd love to see what you are cooking up!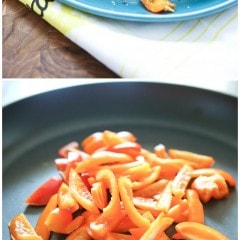 Follow Aggie's Kitchen's board Healthy Breakfasts on Pinterest.