Mixed Nuts with Rosemary (and a kick!)

It is such a dreary rainy day here in Orlando…but I will admit, it's kinda nice. We're all relaxed here at the house, the kids set up "camp" in the living room and we've watched lots of Christmas shows this morning. Not sure how long this relaxing atmosphere will last, but I'm enjoying it right now!
We are having a graduation party for our nephew on Saturday. Friends and family will be over and of course there will be a ton of food. Everyone is bringing a little something…I am making the main dishes, plus a few extras because I just can't help myself.
These nuts are one of those "extras"…they were super easy and are so tasty. The rosemary and butter make them savory…but the cayenne gives them a kick that I just love. They are going to great with the fabulous cheese plate that my niece is going to put together.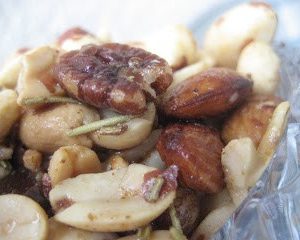 Ingredients:
3 tablespoons unsalted butter
1 tablespoon dried crumbled rosemary
1 1/2 teaspoons salt
1/2 teaspoon cayenne, or to taste
3 cups mixed nuts (pecans, cashews, and hazelnuts)
Directions:
Preheat oven to 350 degrees F.
Melt butter with dried rosemary, salt, and cayenne. Pour this mixture over 3 cups mixed nuts, tossing to coat them. Bake the nuts on a cookie sheet for 10 minutes, stirring occasionally.
Follow AggiesKitchen on Instagram and show us what recipes you are making from the blog! Use the hashtag #aggieskitchen - I'd love to see what you are cooking up!
Barbara
from
Barbara Bakes
was so nice to pass on this cute
Superior Scribbler
award to me!
Thank you so much
Barbara!
Stay tuned…Aggie's Kitchen will be having it's first giveaway very soon!