Apple-Orange Cranberry Sauce
It's not too late…to make this cranberry sauce! I promise.
It is wonderful..super fresh, tart but sweet.  I found the recipe for this Apple-Orange Cranberry Sauce last year on Williams Sonoma's site.  I love that it has chunks of apples in it along with orange zest and juice.  And the best part is it will probably be the easiest thing you cook for Thanksgiving dinner.
Wishing everyone a very Happy Thanksgiving!  I'm feeling super blessed and thankful for all the good things in my life…my wonderful husband and kids, our families, our friends and our health.  I'm also very thankful for all the wonderful opportunities that I have experienced this year thanks to this blog…I'm thankful for all of you who read it and who comment and who support me.  I'm thankful for all the great people I've met "virtually" and in person whether through blogging, Facebook or Twitter…
Life is Good. God Bless.
Future Food Blogger?  🙂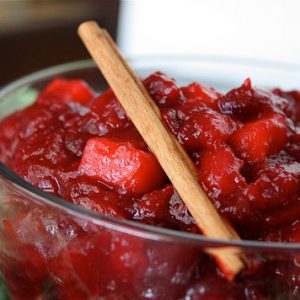 Ingredients:
1 orange, zested and juiced
2 Granny Smith apples, peeled and chopped
2 bags fresh cranberries (about 6 cups), rinsed
3 cups water
2 cups sugar (original recipe calls for 2 1/2 so if you adjust to your liking)
1 teaspoon ground cinnamon
1/2 teaspoon ground cloves
Directions:
In a medium sauce pan, combine fresh squeezed orange juice, zest, apples, cranberries, water, sugar, cinnamon and cloves. Bring to a slow boil, then reduce heat to a simmer. Gently stir occasionally, until cranberries "pop", apple softens and sauce thickens, about 10-15 minutes.
Let cool completely before serving. Makes a large batch, perfect for leftovers.
Over the years, I've started to reduce the sugar gradually. If you have a sweeter tooth, stick to the two cups. If you are looking to cut back, try with 1 cup of sugar and you can always add more.
To help with adding more natural sweetness, I like to include the squeezed halves of oranges and the apple cores to the cooking process and then remove.
Follow AggiesKitchen on Instagram and show us what recipes you are making from the blog! Use the hashtag #aggieskitchen - I'd love to see what you are cooking up!