Hummus and Veggie Panini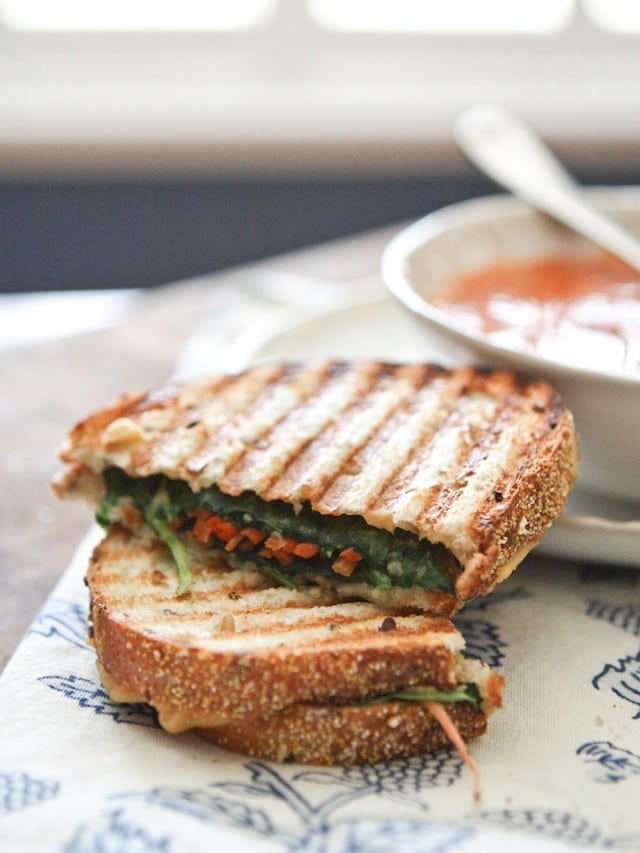 A few summers ago I purchased a very inexpensive panini press
. It was a random purchase I made while wandering around Target and has turned into one the smartest random purchases I've ever made. I can't even begin to tell you how much we have used this kitchen gadget over the years. My kids are now obsessed with paninis and not only has my panini press saved me on many occasions where I had nothing but sandwiches planned for dinner but quick paninis have become a lunchtime staple during the summer months.  Something about turning a simple turkey and cheese sandwich into a panini just makes things a bit more exciting I guess…and while everyone else is enjoying their lovely turkey and cheese paninis, I'm getting excited about this Hummus and Veggie Panini I am putting together for myself.
This sandwich idea is obviously not very complicated. It came together with ingredients I pretty much always have in my fridge…hummus, spinach, carrots and cheese. If you don't have matchstick carrots, a little grated carrot will work just fine. You can use any type of bread, but fresh whole grain bread from the bakery is my favorite.  I served this Hummus and Veggie Panini with a bowl of Tomato and White Bean Soup and it was a perfect light meal for lunch or dinner.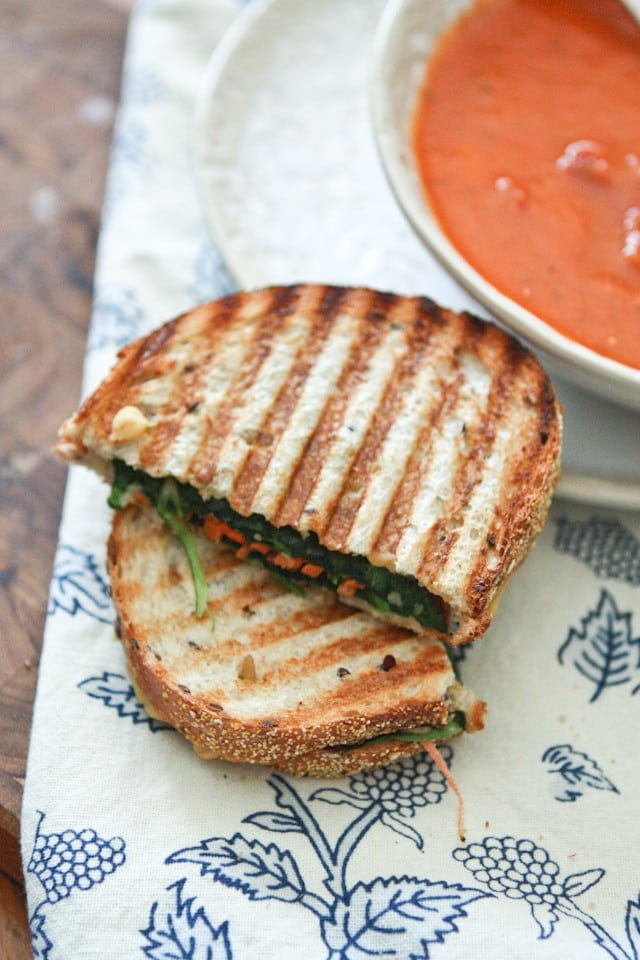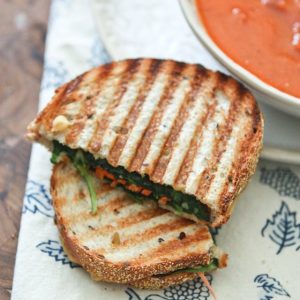 Ingredients:
For one sandwich:
2 slices whole grain bread
1 tablespoon prepared hummus (I like a spicy hummus in this sandwich)
fresh spinach leaves (just a small handful)
matchstick carrots
slice of provolone cheese
Directions:
Preheat your panini press, grill pan or skillet.
Build your sandwich by spreading hummus on one slice of bread, then spinach and carrots. Top with a slice of cheese then remaining slice of bread.
Place in your panini until cheese is melted and bread is toasted. If not using a panini press, make sure to use a heavy object (like another skillet with a large can placed in it) to press down your sandwich. You may want to flip over to evenly brown both sides (not needed if using a panini press, only if using grill pan or skillet).
Follow AggiesKitchen on Instagram and show us what recipes you are making from the blog! Use the hashtag #aggieskitchen - I'd love to see what you are cooking up!
More delicious ways to use a panini press:
Fresh Fig, Goat Cheese, Honey and Almond Panini
Rotisserie Chicken Cuban Sandwiches
Grilled Italian Panini with Zucchini, Summer Squash and Basil | Cookin' Canuck
Pizza Panini | Rachel Cooks
Smashed Chickpea and Avocado Panini | Panini Happy
(Disclosure: There are affiliate links in this post. I make small earnings through any purchases made through these links. Thank you for supporting Aggie's Kitchen!)
---
Are you following me on Instagram, Twitter, Facebook and Pinterest? If you'd like to subscribe to Aggie's Kitchen and have each post delivered straight to your e-mail box, then please add your email here. Happy cooking!