Grilled Baby Portabella Pesto Flatbread Pizza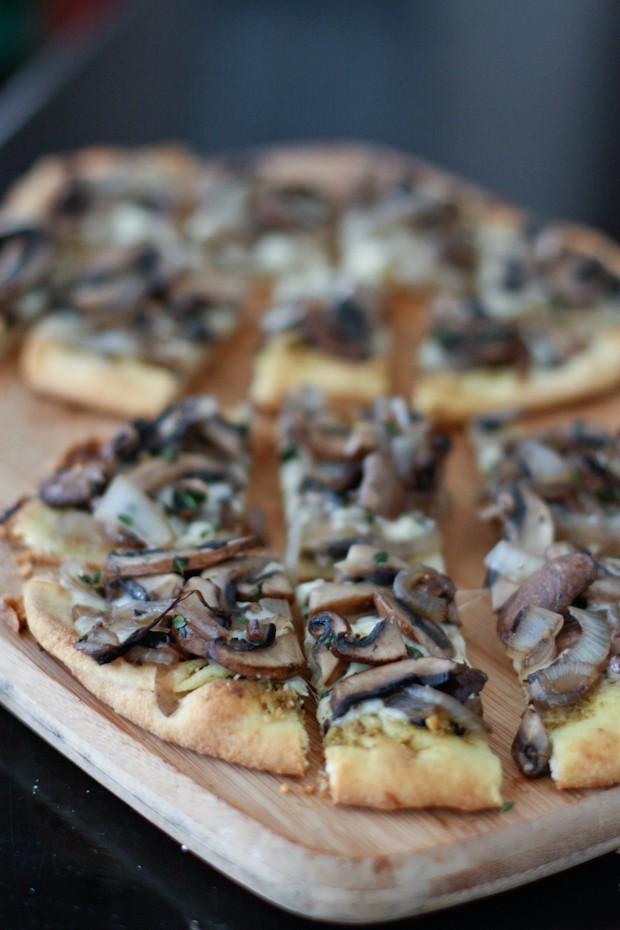 This post is sponsored by The Mushroom Council via Kitchen Play.
I don't know about you, but I really appreciate a good spread of meatless options at any party or get together – especially appetizers. I have nothing against meaty snacks, but I just love veggie snack food better. Maybe because mentally I think I can eat more of it?
To me mushrooms are the ultimate compromise when it comes to satisfying both meat and veggie eaters. When cooked, they make a substantial addition to any recipe, and you can really flavor them up with fresh herbs and spices to pair up with cheese, breads, rice and pasta – among many other ingredients. You can stuff them for bite sized munching, saute them with savory garlic and herbs for a topping to a sandwich or main dish or use them as the star ingredient in a recipe like a grilled portabella mushroom burger or a stuffed portabella mushroom cap. I tend to use a good handful of chopped mushrooms to bulk up recipes like sloppy joes or stuffed peppers to keep them on the lighter side. The ideas are truly endless and I find myself always wanting to experiment with them more and more.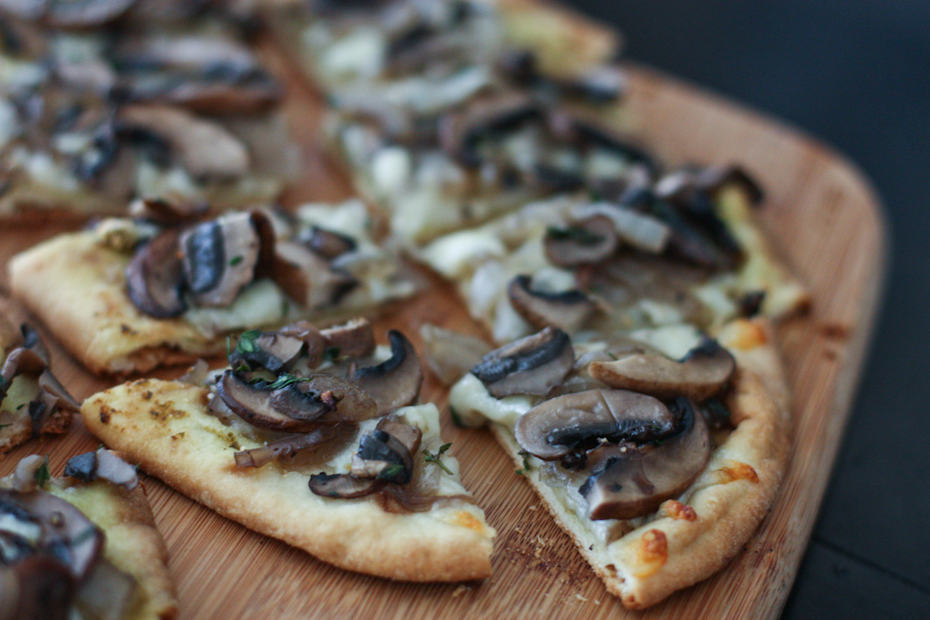 I love cooking with mushrooms so much I have a Pinterest board dedicated to them.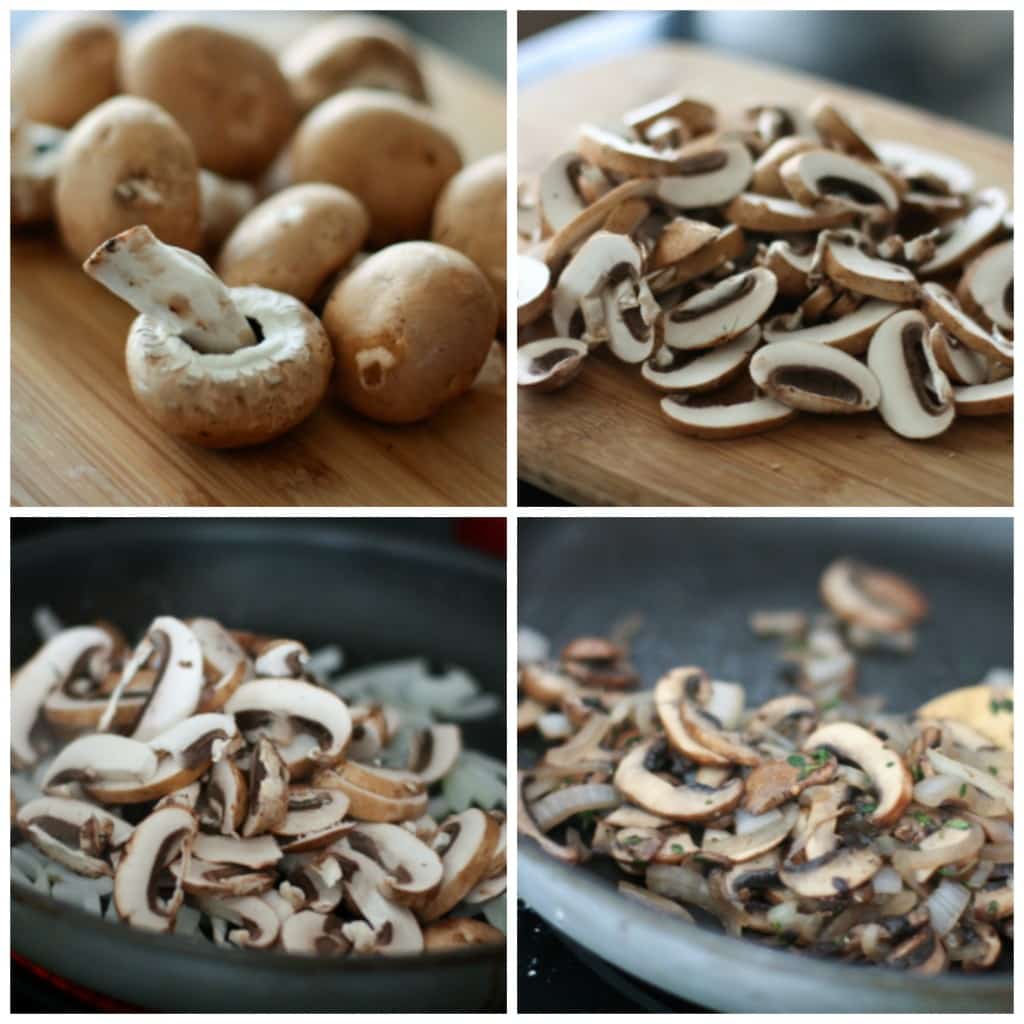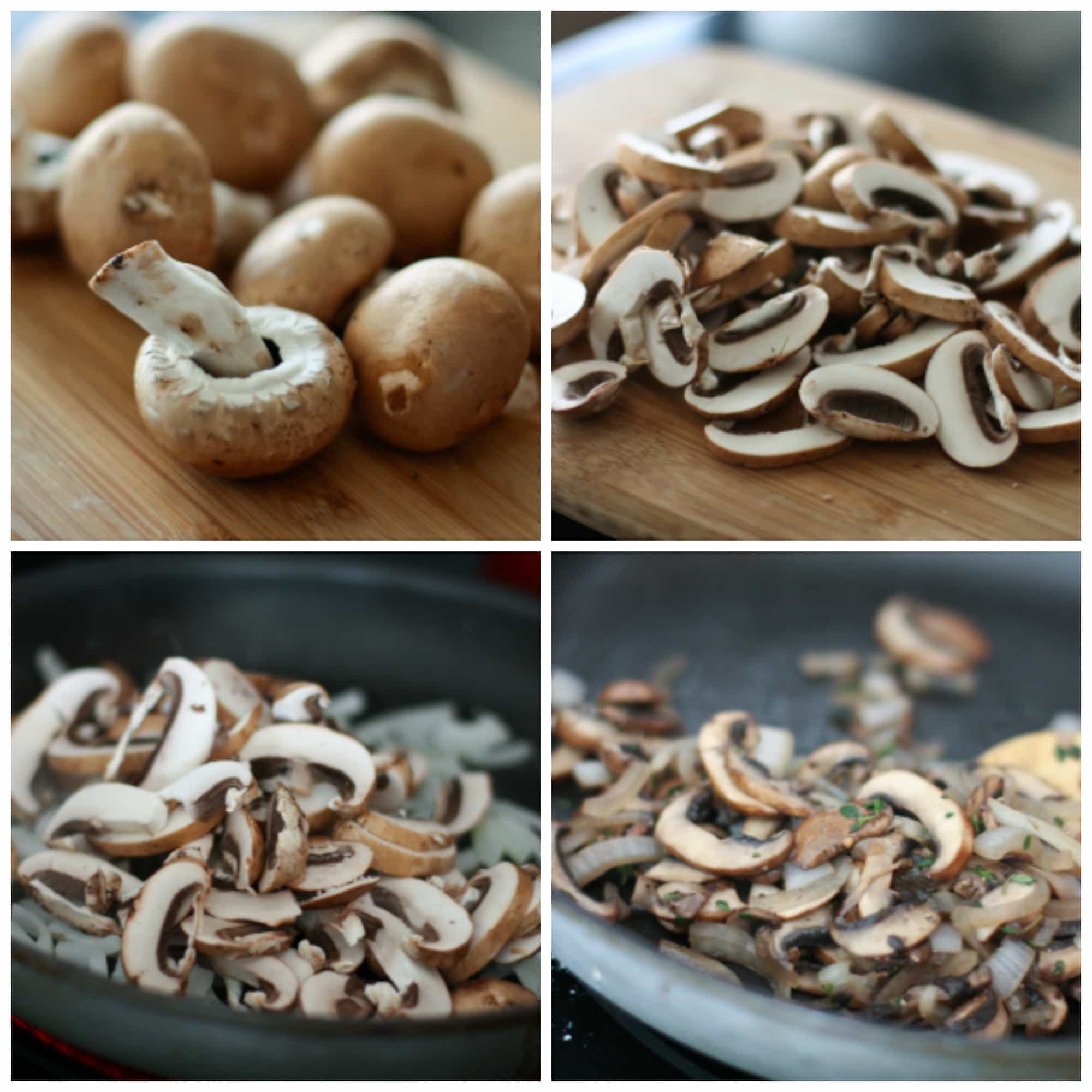 When I was asked to come up with an appetizer recipe to contribute to the "Swap It or Top It" Kitchen Play event with The Mushroom Council, this grilled summer meatless flatbread pizza immediately came to mind. Flatbreads are a great option for entertaining because they are so easy to whip up. I prepared these by first sauteing the sliced portabella mushrooms with a little olive oil, fresh thyme, salt and pepper. The flatbread pizzas (I used Naan for the bread since they hold up so nicely on the grill) were quickly warmed up on the grill then taken off and topped with a shmear of fresh pesto, the sauteed mushrooms and of course cheese. Throw them back on the grill (or into the oven) until the cheese melts and gets bubbly and you have yourself an impressive little appetizer with minimum effort.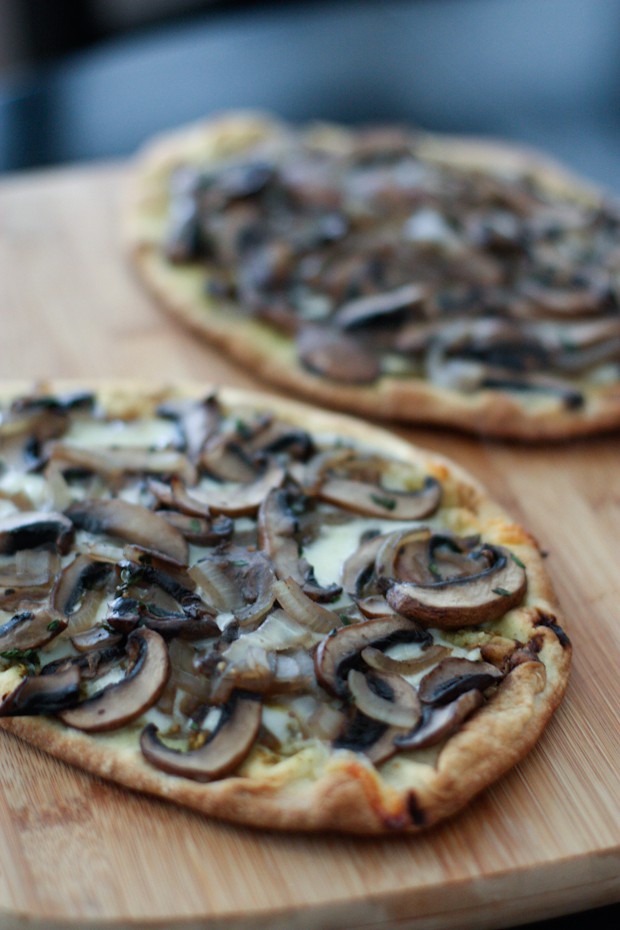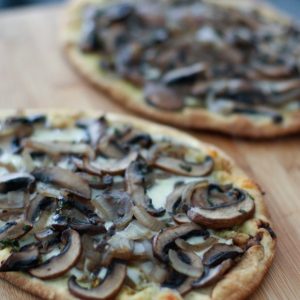 Ingredients:
10 Baby Bella mushrooms, sliced thin
1 Vidalia onion, sliced thin
1 teaspoon olive oil
big pinch salt and pepper
2 teaspoon fresh thyme, chopped
2 Naan breads
2 tablespoons pesto
6 oz mozzarella, shredded
2 tablespoons Parmesan cheese
Directions:
In a large nonstick skillet over medium heat, cook mushrooms and onions in 1 teaspoon of olive oil. Add a pinch of salt and pepper and continue to cook for up to 7 minutes until mushrooms and onions start to soften. Add chopped thyme to mushrooms and onions and stir, cook for a minute or two longer. Set aside.
Heat your grill to medium heat. Place naan bread on grill and heat both sides for 1-2 minutes each. Take of grill and place on large plate or cutting board to prep pizzas.
To prep pizzas, carefully spread pesto evenly over each flatbread. Spread cheeses evenly over both flatbreads, then top with mushrooms. Place back on grill and cook with grill cover shut for a few minutes until cheese is melted. Slice into small finger-food sized portions and serve.
Follow AggiesKitchen on Instagram and show us what recipes you are making from the blog! Use the hashtag #aggieskitchen - I'd love to see what you are cooking up!
Follow Aggie's Kitchen's board Pizza & Flatbread on Pinterest.
Do you have a favorite way to use mushrooms in recipes? Enter your recipe into the Mushroom Council's Swap It Or Top It event for a chance to win $5000! Visit MushroomInfo.com for more details and to enter your recipe.
And here's a little tidbit that might win you a prize during the upcoming Swap It or Top It Twitter party next week – Kennett Square, PA is the mushroom growing capital of the world. The Twitter party is scheduled for June 25, 2013 at 7pm (EST) – make sure to drop in for some more mushroom facts, recipes and a chance to win $5000 and other prizes!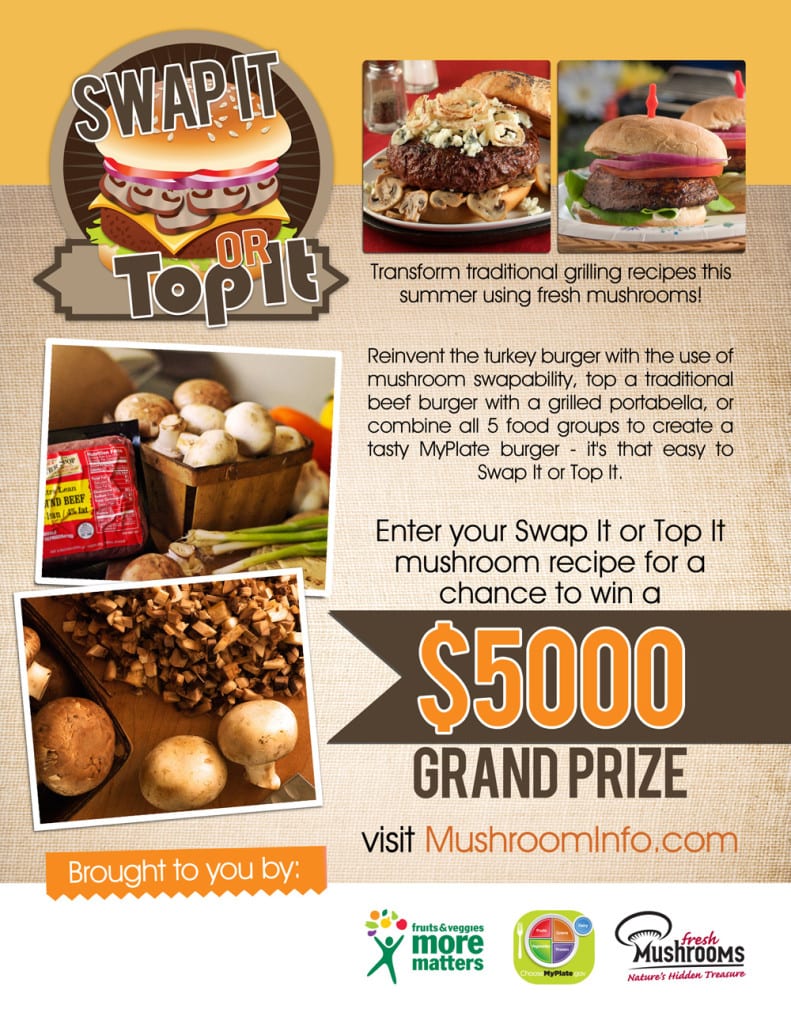 This post is sponsored by The Mushroom Council via Kitchen Play. All opinions are my own.