Gingerbread Spiced Nuts
Gingerbread Spiced Nuts are the perfect holiday snack. Serve them all for your parties and gatherings all season long!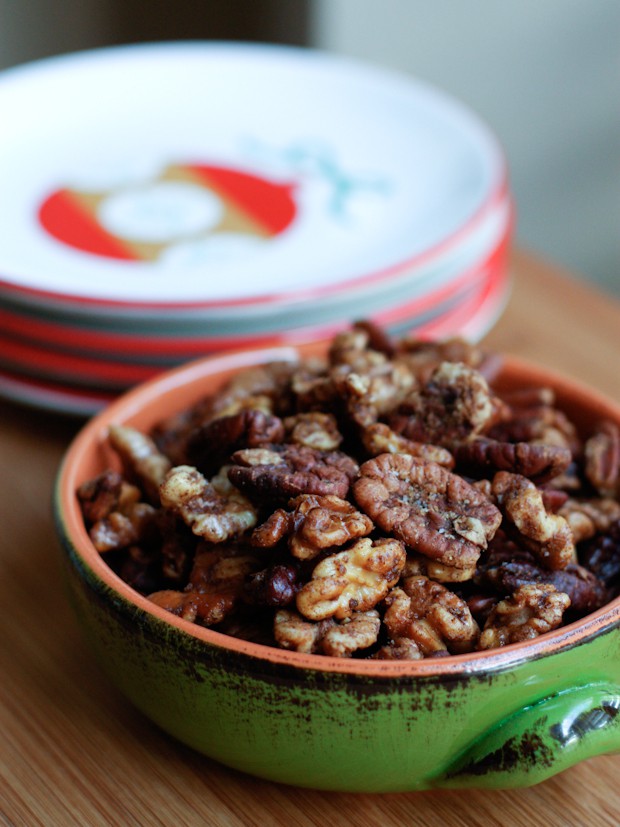 This Gingerbread Spiced Nuts recipe is sponsored by Fisher Nuts.
'Tis the season…for so much, right? The holidays for my family feel very low key this year, and I have to admit, I kind of like it. Between a new baby and transitioning into a new house, there just isn't much extra time (or let's be honest, energy) for stuff that really isn't all that important as it has been in the past. For example, our tree, our stockings, and a few decorations are up, but I am wondering what's in the 3 other large plastic bins sitting in the garage marked Christmas and if I really need all that "stuff". I'm not missing anything so I guess I don't need it right? Maybe next year it'll come back out…but for now, I'm truly enjoying Simple. I'm also a little (a lot) behind on Christmas shopping (hello Amazon Prime), Christmas cards and pretty much everything else relating to the holiday..although I'm proud that I did get manage to get about 1/3 of my Christmas lights out in the yard. 😉
Like I said, the theme for this year's holiday for me is truly…Simple. And it's ok.
Speaking of simple, this spiced holiday nut recipe is pretty simple – just the way I like it! Although I mentioned our holidays are more low key this year, we are still spending time with family and friends and of course when people get together there is usually food involved. Spiced nuts are always a welcomed treat at any get together and they can't be easier to make – take it from a slightly sleep deprived mom who is not spending a lot of time in the kitchen lately. These nuts take less than 20 minutes to put together and that includes oven time. You can package them up in a pretty holiday tin to take with you to a holiday party, or set them out for guests that are stopping by. Of course you can just treat your kids to some as an after school snack, I'm sure they won't mind. 🙂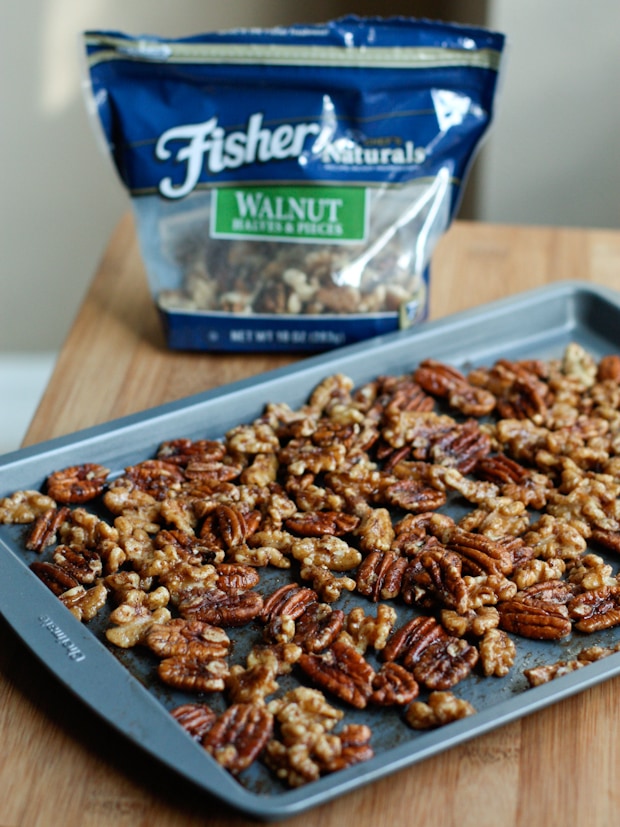 I was inspired by the flavors of the season when I made these nuts using Fisher's Nuts. I used a blend of Walnut and Pecan Halves but any combination of nuts will work. These bake up in just 10 – 12 minutes, you know they are done when you start to smell something delicious in the air!
Happy Snacking!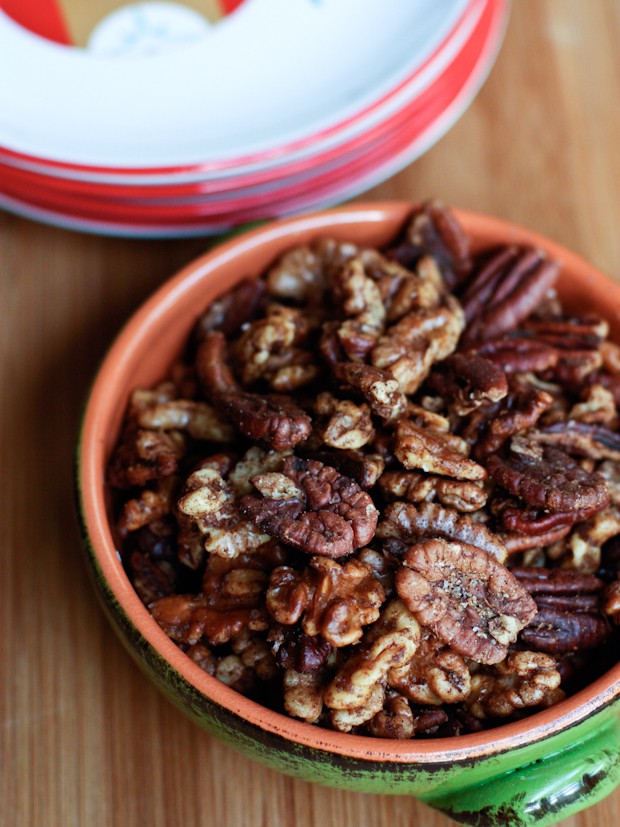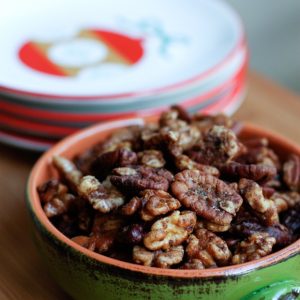 Ingredients:
3 cups Fisher Nuts (I used 1 1/2 cups Walnut Halves and 1 1/2 cups Pecan Halves)
1/2 + 1/4 teaspoon cinnamon
1/2 + 1/4 teaspoon ground ginger
1/4 teaspoon ground all spice
1/4 teaspoon ground nutmeg
1/4 teaspoon ground cloves
3 tablespoons brown sugar
big pinch coarse salt
2 tablespoons coconut oil
Directions:
Preheat oven to 350 degrees.
Add nuts to a large mixing bowl.
In a small bowl, combine spices, sugar and coconut oil. Add to nuts and toss well until nuts are completely coated.
Bake in 350 degree oven for 10-12 minutes until fragrant. Let cool before serving.
Follow AggiesKitchen on Instagram and show us what recipes you are making from the blog! Use the hashtag #aggieskitchen - I'd love to see what you are cooking up!
Fisher Nuts is partnering with Chef Alex Guarnaschelli for the second year in a row to share fresh twists on traditional recipes. You may recognize Chef Guarnaschelli as a regular judge on the shows Chopped and The Next Iron Chef. She's known for transforming every day food into savory and simple dishes like her Twice Baked Potatoes with Pecans and Spinach with Almonds and Red Pepper Flakes – both would make a fantastic addition to any holiday menu!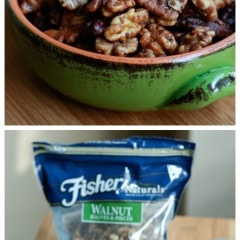 Disclosure: I am honored to be sharing this recipe with you on behalf of Fisher Nuts as a product ambassador. I received compensation for creating this recipe but as always all opinions expressed are my own!
Follow Aggie's Kitchen's board Appetizers, Snacks & Party Food! on Pinterest.