Chicken Change-Up: Hellmann's BBQ-Cheddar Chicken Bites and Buffalo Chicken Bites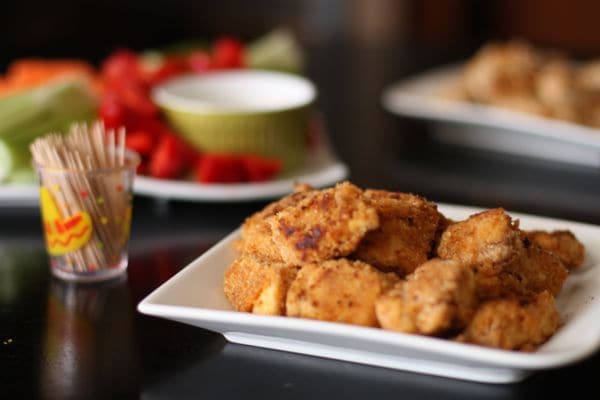 Last month, I shared with you this super-easy, super-quick chicken recipe as part of Hellmann's Chicken Change-Up Challenge. It turned out so good that I wanted to play around some more and make an appetizer to serve up some friends at a little dinner get-together at my home one evening.
Now, I've mentioned before how much I love appetizers – and it sounds like most of you like to snack your way through a meal too. If you're one of those appetizer people, like I am, then you will love these Baked BBQ-Cheddar Chicken Bites and Baked Buffalo Chicken Bites (shown above). Call them nuggets if you wish, I like the word "bites" much better, don't you?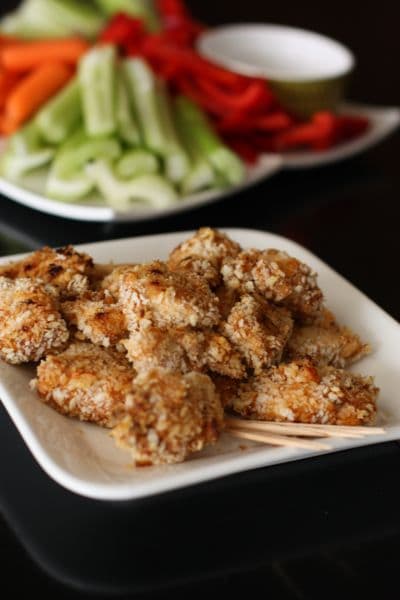 I decided to make two different kinds of chicken bites, a kicked up buffalo-style one for the grown-ups and a kid-friendly bbq version. Both kinds were gobbled up by grown-ups as well as kids, all the same. Let me tell you, these two plates of chicken did not last very long at all. Everyone agreed, the chicken was GOOD and everyone was surprised at how crisp, but not dry, it turned out in the oven (as opposed to frying). No one realized what the "secret" ingredient was (mayonnaise!) and with just a few ingredients, these chicken bites turned out really moist and flavorful. It was a perfect way to start a meal with friends.
I rounded the chicken apps out with a nice plate of veggies and Ranch dip that everyone munched on until the rest of the meal was ready.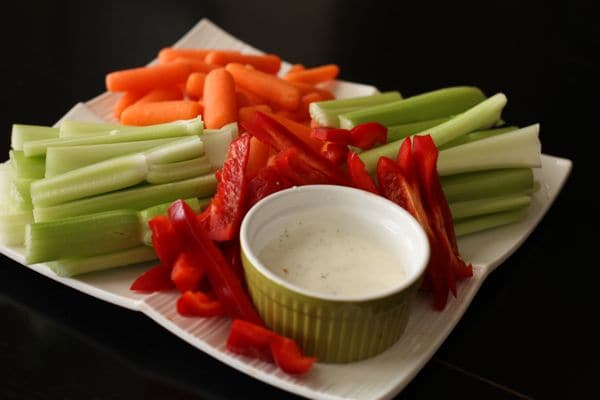 Next time you are getting together with family and friends, whether for a sit-down dinner or game-time apps (or to just hang out and eat!), try out these chicken bites. The ideas are pretty endless as far as changing them up too, I could see them going Asian-style or even Italian-style (with Italian seasoning & Parmesan cheese breading and marinara dipping sauce – YUM!). Have fun with these recipes!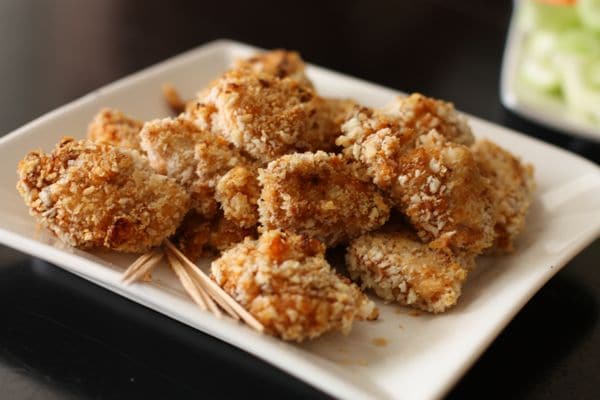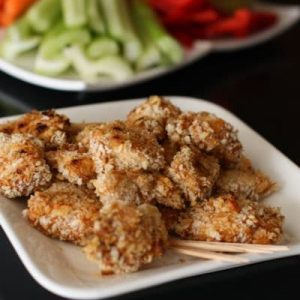 Ingredients:
1 1/4 lb chicken breasts, cut into 1″pieces
1/2 cup Hellmann's or Best Foods Real Mayonnaise (I used Light)
1/4 cup shredded cheddar cheese
3 tablespoons barbecue sauce
2 cups seasoned bread crumbs
Directions:
Preheat oven to 425 degrees.
Combine Hellmann's or Best Foods Real Mayonnaise, cheese and barbecue sauce in a medium bowl. Add chicken pieces into mayonnaise mixture and gently toss to thoroughly combine.
Put bread crumbs in large shallow dish. Place each chicken piece into bread crumbs and toss to coat. Place on a lightly greased baking sheet.
Bake for 7 minutes, then carefully flip each chicken bite. Bake for an additional 7-10 minutes until golden brown.
To make the Buffalo Chicken Bites version, I used Frank's Red Hot Buffalo sauce in place of the barbecue sauce and I left out the cheese. I also used panko, but feel free to use your bread crumb of choice.
Follow AggiesKitchen on Instagram and show us what recipes you are making from the blog! Use the hashtag #aggieskitchen - I'd love to see what you are cooking up!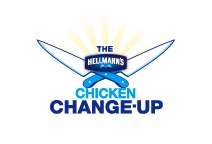 Visit
Facebook.com/Hellmanns
to participate in the Chicken Change-Up, where you can find ideas on managing dinner dilemmas and enter for a chance to win daily prizes.
(Disclosure: Hellmann's provided me product and compensation for this post, but as always the words and opinions on this blog are always my own.)