Cherry Almond Granola (and Summertime Cherry Parfaits)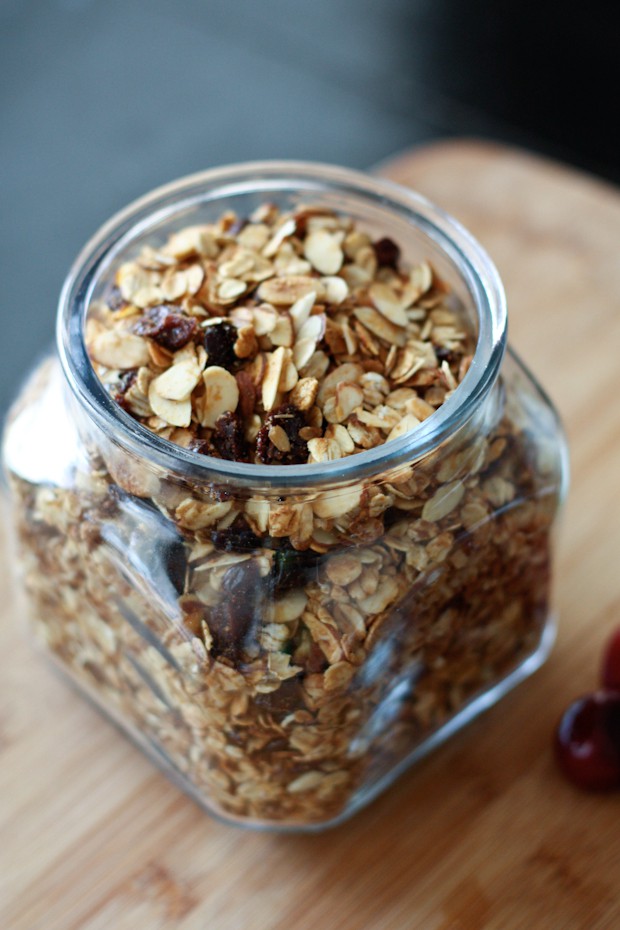 Over the summer break, I had a little more time in the mornings to play around with breakfast. I introduced my kids to parfaits and they loved them. I know it's not a novel idea, but I'm more of a spooning granola over a bowl of yogurt and fruit kind of girl versus layering it up all pretty in a parfait. But there's nothing wrong with changing it up sometimes!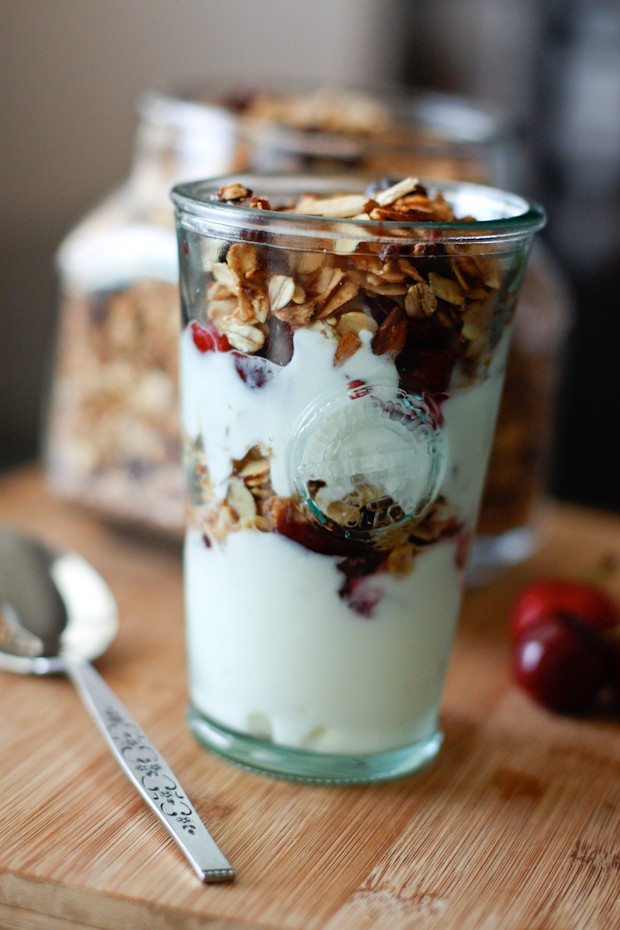 I've always loved the flavors of cherry and almond together (hence, why I love this holiday candle so much!!) – it's the perfect combination in my opinion. I picked up a bag of dried cherries recently thinking I was going to make a Michigan inspired chicken salad like this one, but they ended up in granola instead. I guess I need to get more, because I can't stop thinking about Sheila's salad on that croissant – kinda wishing I had it for lunch today.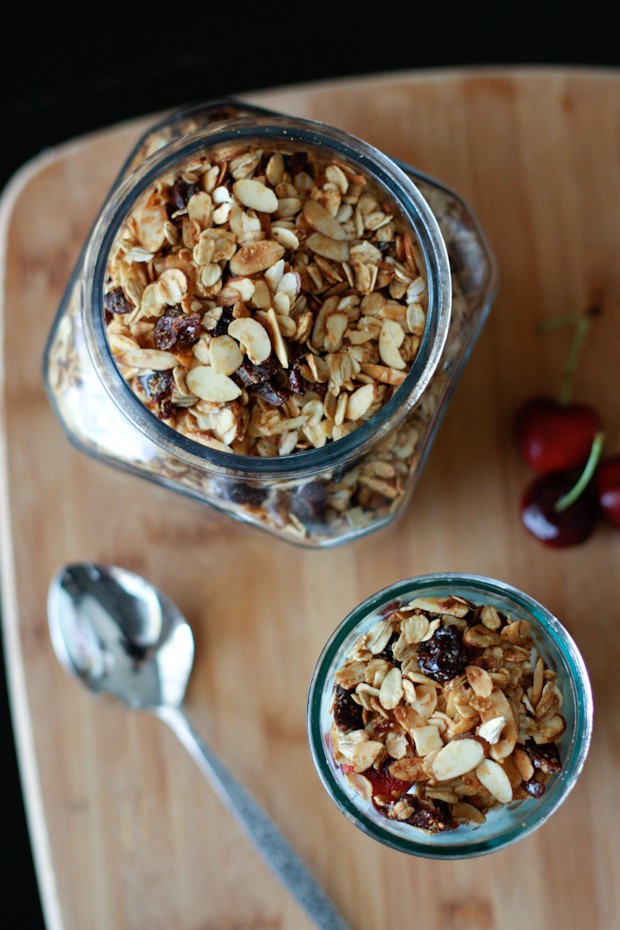 I've shared recipes for homemade granola on the blog before, and this one is not much different. The great part about granola is you can stick to a standard recipe, then just change up the flavors a bit each time. For this granola recipe, I used honey for the sweetener (as opposed to maple like I tend to use) and coconut oil instead of vegetable oil.
As for the parfait, it's simple once you have your granola cooked up. The granola is layered up between sliced fresh cherries and plain or vanilla yogurt (we like to switch up between regular and Greek yogurt). That's basically all it takes to make a pretty little parfait – and a healthy snack. My kids were over the moon excited when I presented them with one – made me feel like Mom of the Year for a second. 🙂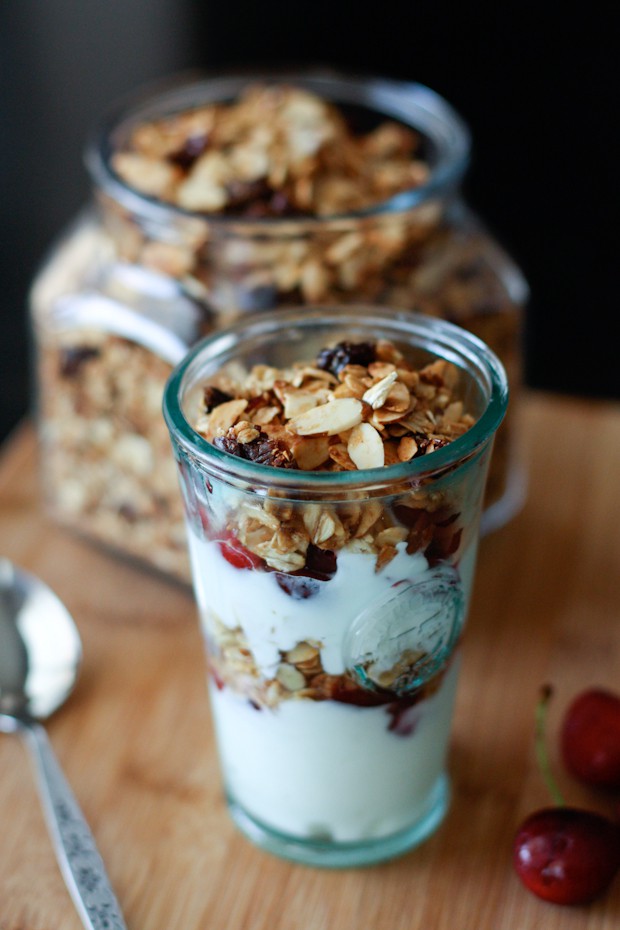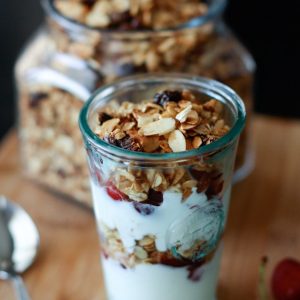 Ingredients:
4 cups old fashioned oats
2 cups sliced almonds
1/4 cup flax meal
2 pinches of salt
1/3 cup coconut oil (can be reduced to 1/4 cup for less calories and fat)
1/3 cup honey (can be reduced to 1/4 cup if you don't have a huge sweet tooth and are watching calories)
2 teaspoons vanilla
1 cup whole dried cherries, roughly chopped
Directions:
Preheat oven to 350 degrees.
In a large mixing bowl, combine oats, almonds, flax meal and salt.
In a small sauce pan over low heat combine coconut oil and honey until liquified. Add vanilla to coconut oil and honey and pour over granola mixture. Using a wooden spoon gently stir until oats are completely covered in oil and honey mixture.
Spread granola mixture evenly onto 2 large baking sheets. Cook for 10 minutes, add cherries and gently stir. Cook for 10-15 minutes more, or until golden brown.
Follow AggiesKitchen on Instagram and show us what recipes you are making from the blog! Use the hashtag #aggieskitchen - I'd love to see what you are cooking up!
Follow Aggie's Kitchen's board Healthy Breakfasts on Pinterest.
More summertime cherry recipes:
Chocolate Cherry Berry Smoothie | The Lemon Bowl
Cherry Coconut Crostini | Reluctant Entertainer
Grilled Pork Chops with Cherry Salsa | Simply Recipes
Cherry Fruit Leather | Baked By Rachel
Sweet Cherry Freezer Jam with Lime | A Farmgirl's Dabbles