BUSH's Mexican Black Bean Pizza
Loaded with pulled pork, beans and cheese this Mexican Black Bean Pizza will satisfy any appetite or craving! This recipe was created in partnership with Bush' Beans.
Click here to Pin this Recipe!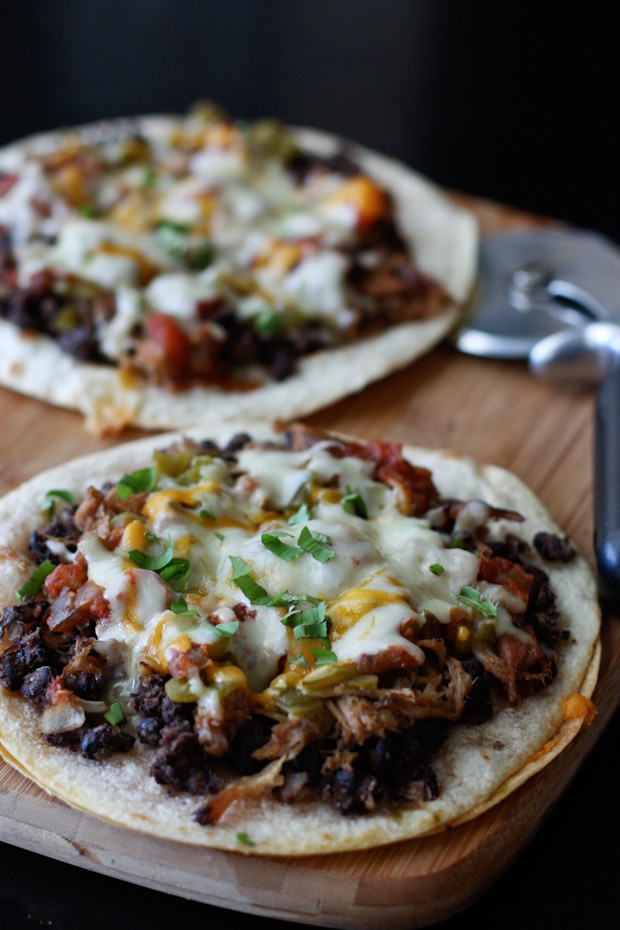 Many of you know that pizza and I go way back. Waaaaaay back. (if you didn't know, my parents have owned a pizza shop since I was an itty bitty girl, I grew up watching my dad making a million pizzas a week). It's hands down my favorite food in the world.
Mexican food? I don't think I had a taste of Mexican food until I was close to becoming an adult. Mexican food didn't really make appearances in my Italian rooted house during my childhood. I think I had my first bean dip when I was waitressing at a sports bar in college. Nachos and I became best friends around that time too. I think it's now safe to say that I love Mexican food. And I cook it at home at least once a week.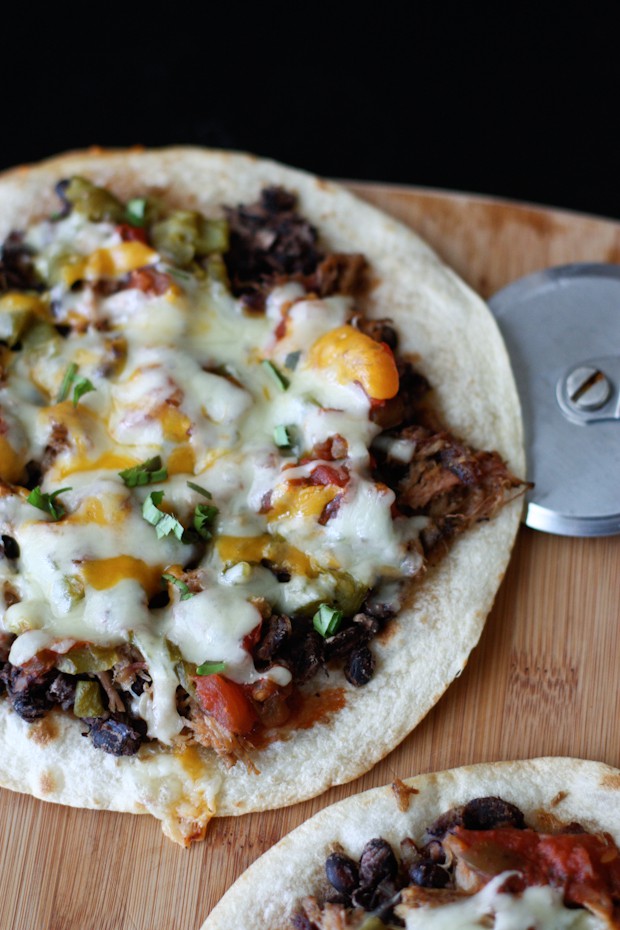 This little recipe for Mexican Black Bean Pizza is the perfect combination of my two favorite foods. It uses just a few ingredients that you will most likely already have on hand. The one ingredient you may have to make a little effort for is the pulled pork. I happen to have some leftover in my freezer from the last batch I made, but if you don't, any leftover protein would really work here – leftover grilled or pulled chicken, chorizo or taco meat. Play around with it.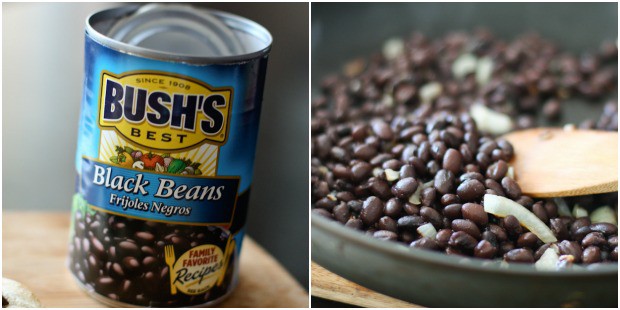 Of course, this little pizza included another favorite food of mine – beans. Grab a can, heat them up with some onion and throw them on there, easy peasy. Canned beans are so great to have on hand to add to any recipe.
Each pizza "crust" is made with 2 tortillas, glued together by cheese, to make it sturdier. I thought this was pretty genius. If you are watching your calories, just cut back a little on the cheese – and remember to shred it yourself straight from the block, I always find that when you do it that way the cheese melts so much better and you can use a lot less.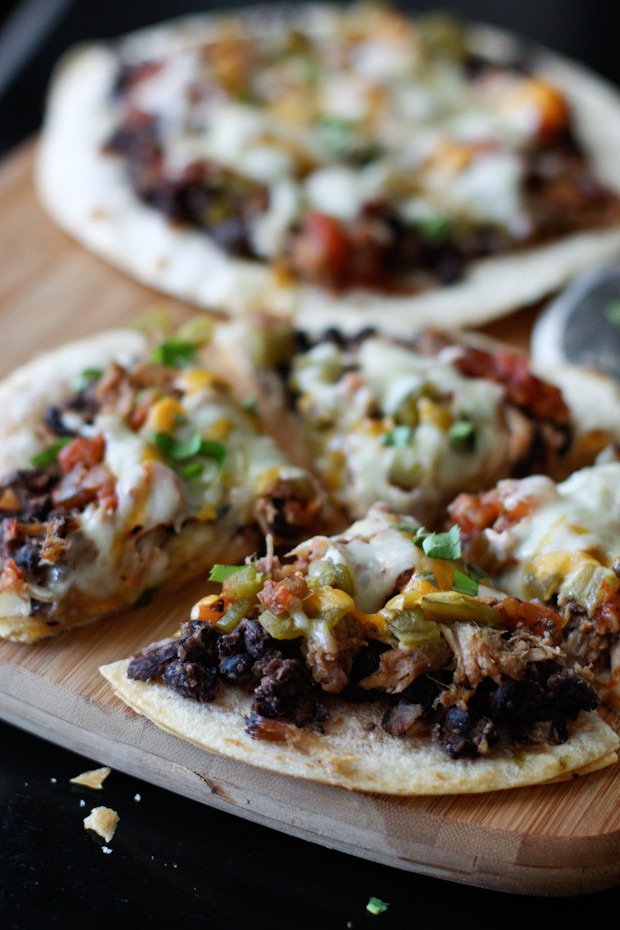 Grab a slice and enjoy!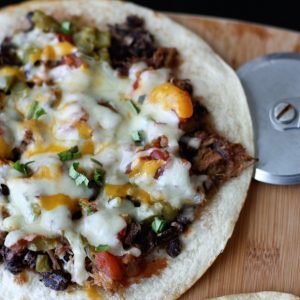 Ingredients:
1 1/4 cups shredded Cheddar cheese
1/4 cup shredded Monterey Jack cheese
2 tablespoons olive oil
8 (6-inch) flour tortillas
1 small onion, chopped
1 (15 ounce) can BUSH'S® Black Beans, drained
1/2 cup salsa, mild or spicy
2 ounces canned chopped green chiles
1 cup pulled pork
Directions:
Preheat oven to 350 degrees. Combine half of the Cheddar with all of the Monterey Jack cheese in a bowl and set aside.
Brush a baking sheet with 1 tablespoon oil and arrange 4 of the tortillas in a single layer.
Sprinkle the other remaining half of the cheddar cheese over each tortilla. Top with remaining 4 tortillas and bake for 4-5 minutes or until lightly browned.
While tortillas are baking, heat 1 tablespoon of oil in a skillet and cook onions until soft and browned. Add beans to onions and partially mash using the back of your fork (or a potato masher).
Remove tortillas from the oven and top each tortilla evenly with bean mixture. Top evenly with salsa, chiles, pulled pork and cheese blend.
Put back into oven and bake for about 10-15 minutes or until cheese is melted.
Follow AggiesKitchen on Instagram and show us what recipes you are making from the blog! Use the hashtag #aggieskitchen - I'd love to see what you are cooking up!
More black bean goodness:
Zucchini, Red Onion and Black Bean Quesadillas
Black Bean and Cheese Quesadillas | She Wears Many Hats
Black Beans and Sweet Potatoes | Reluctant Entertainer
Turkey Black Bean Burgers | Dine & Dish
or check out BUSH's Beans Recipe and Meal Ideas page for more inspiration!