Bruschetta Patty Melts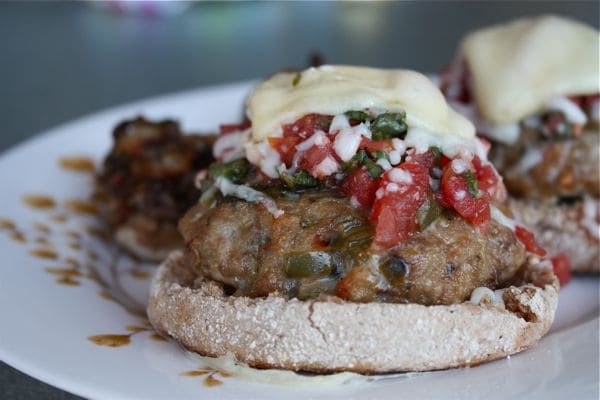 So, our nephew Ryan has been staying with us while his new apartment is getting ready for him.  You may have heard me mention Ryan before, he was the mastermind behind this delicious Tropical Fruit Salsa we served over grilled salmon last summer.  What's fun about Ryan staying with us is that he likes to cook so it definitely adds to the creativity going on in the kitchen.

This meal was a collaborative effort between us.  I told him what I had on hand and wanted to use up…he sparked the idea of using a bruschetta topping and broiling the patties with cheese and serving open faced on an English muffin.  The result was amazing and enjoyed by the adults in the home.  And although I've cut down on eating meat considerably over the last few months, I couldn't resist taking a bite of this one.  What struck out the most was the juiciness of the burger, adding sauteed vegetables to the meat will do that.  And the freshness of the basil in the patties definitely made your taste buds jump up and down as well.  This one is a keeper.  Thanks Ryan for the inspiration! 🙂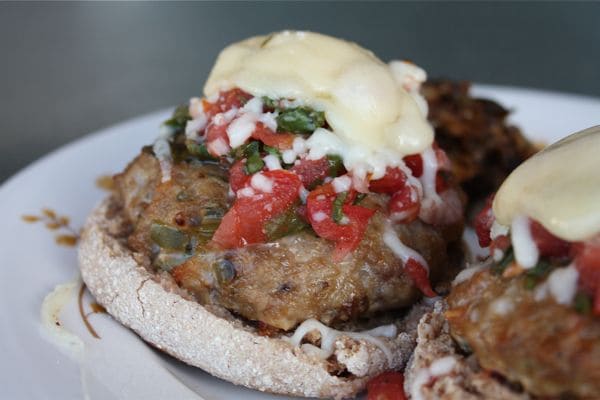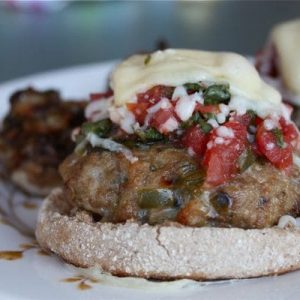 Ingredients:
1 lb ground pork
1/2 green pepper, minced
1/2 onion, minced
2 cloves garlic, minced
2-3 mushrooms, minced
small handful of basil, chopped finely
1 egg
1/4 cup grated parmesan cheese
couple of splashes of wine
salt and pepper
Topping:
Cheese (we used shredded mozzarella and Parmesan shavings)
English Muffins, toasted
Directions:
Preheat oven to 400 degrees.
Saute pepper, mushrooms, onions and garlic and let cool. Combine basil, egg, Parmesan cheese and wine in a bowl. Add cooked vegetables and ground pork to bowl and gently combine. Form into patties. Place on broiler pan and cook for about 15 minutes.
Take cooked patties out of oven and top each one with a spoonful of bruschetta, Parmesan and cheese. Turn broiler on and place burgers back into oven. Cook until cheese is completely melted and slightly browned. Serve open-faced style on toasted English Muffin.
Follow AggiesKitchen on Instagram and show us what recipes you are making from the blog! Use the hashtag #aggieskitchen - I'd love to see what you are cooking up!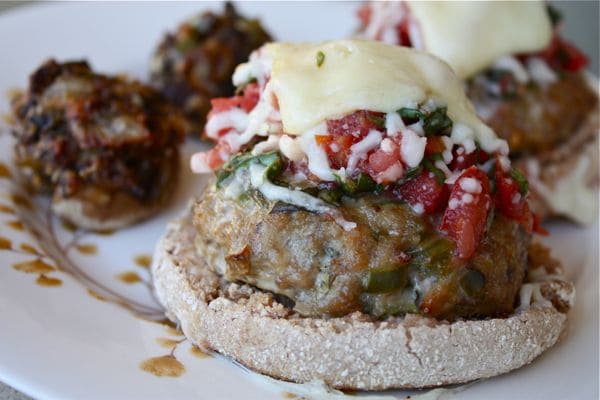 Follow Aggie's Kitchen's board Aggie's Kitchen Recipes on Pinterest.