Bison and Brown Rice Stuffed Peppers
My favorite classic stuffed peppers made healthier with lean bison and brown rice. Great for dinner, even better as leftovers for lunch!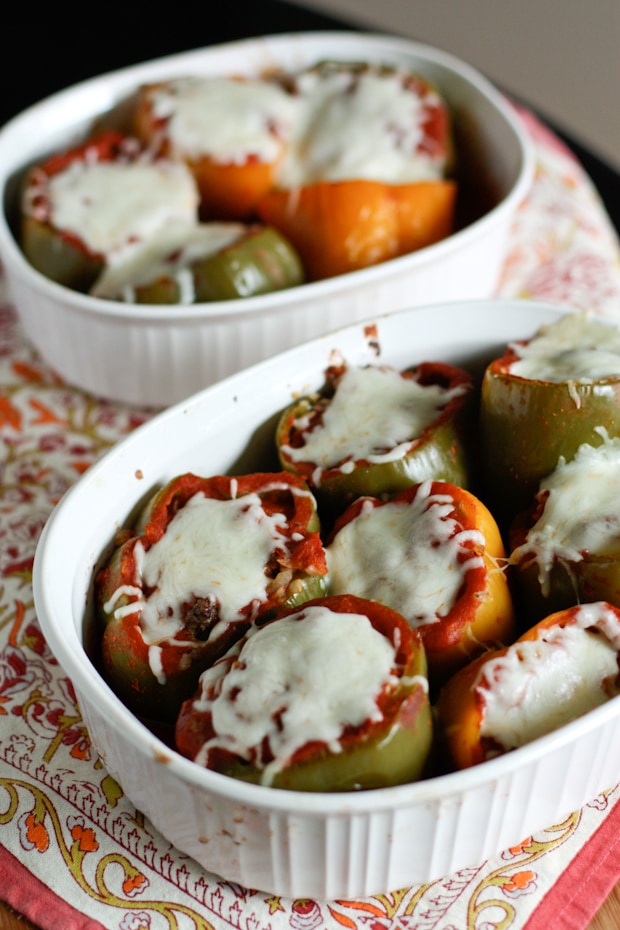 So last week I was majorly on the ball and had a meal plan that included this recipe for Bison and Brown Rice Stuffed Peppers. This week, not so much on the ball. But for good reasons!! My baby boy got pretty sick (tonsilitis!) over the holiday weekend so I have been in survival mode most of this week. Thankfully he's on the mend so things are starting to feel slightly more normal today and I am playing catch up with all things life.
Here's a snapshot of last week's meal plan: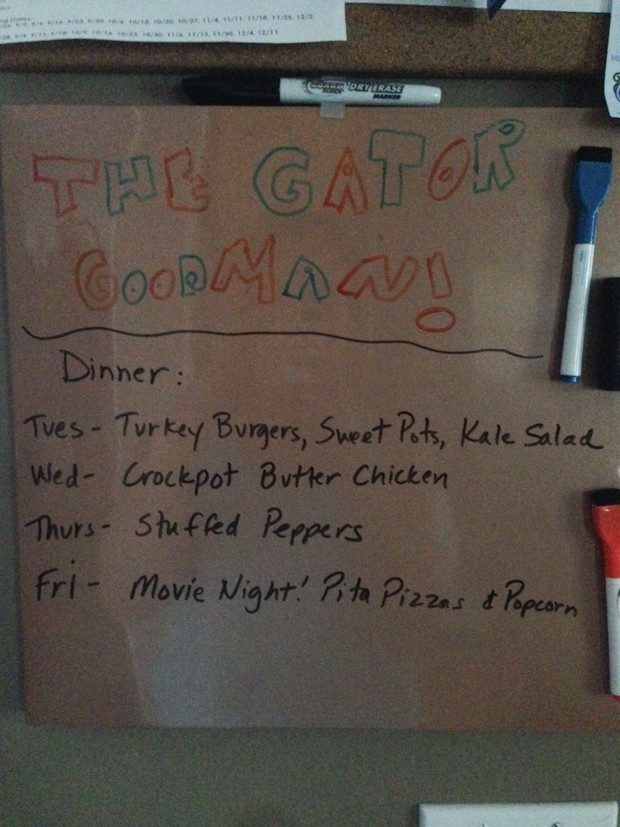 I have to tell you, having a meal plan and writing it out where everyone can see is life changing. My kids are constantly asking me "what's for dinner?" and not really listening to or remembering what I tell them. With it displayed in plain sight on our "communication station" wall all I have to do is point and smile. 🙂
Monday night we were at school for teacher night so I made the kids a quick dinner of tortellini with sauce (good jarred stuff) and broccoli. I honestly can't remember what my husband and I ended up eating that night so let's move on to Tuesday…I grilled some frozen turkey burgers I get from Costco, roasted some sweet potatoes and threw together my favorite store bought kale salad kit. This is becoming a good go-to dinner for us on busy nights.
I also tried a new recipe last week (something I am trying to do every week to keep things interesting). I saw this recipe for Healthy Crock Pot Butter Chicken on ifoodreal.com a few months ago and I have been obsessing about it ever since. My entire family loved this recipe and I will definitely make it again. If you haven't visited ifoodreal before you are missing out on some seriously delicious looking healthy recipes – and gorgeous photography too (one of my favorite healthy food blogs for inspiration!).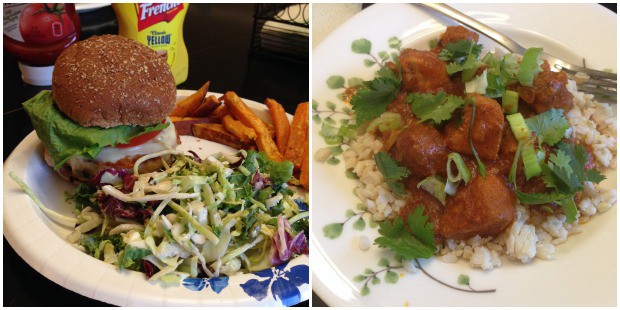 This recipe for stuffed peppers makes a big batch which is great for freezing or having for leftovers for lunch throughout the week. I shared half with my husband's parents who actually requested I make them and I'm so glad they did. It had been a while since I had made stuffed peppers. They are a bit time consuming as far as prep goes as well as cook time but so worth it in my opinion. I prepped and cooked them early in the day then reheated them at dinner time. These would be perfect to make on a Sunday to give you a head start on one of your dinners for the week.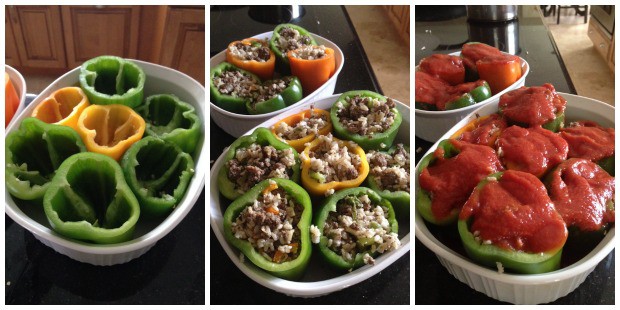 Hope everyone is having a great week!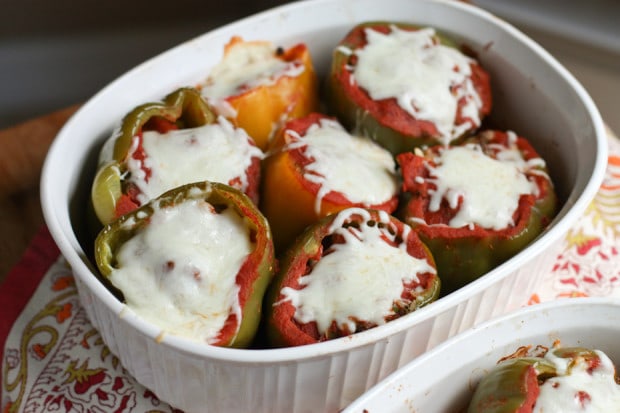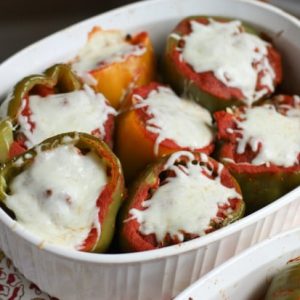 Ingredients:
2 cups cooked brown rice
2 teaspoons oil
1.25 ground bison or lean ground beef
1 large sweet onion, chopped
3-4 cloves garlic, minced
2 teaspoons dried oregano
big pinch coarse salt and fresh ground pepper
1/2 cup grated Parmesan cheese
12 small to medium bell peppers (keep same size for even cooking)
28 oz can tomato sauce (plus about 1/3 cup of water added to can to add to casserole dishes after)
1 cup mozzarella cheese, for topping
Directions:
Preheat your oven to 375 degrees.
Cut the tops off of your bell peppers and chop any remaining pieces. Set aside to add to the beef mixture. Spray 2 casserole dishes with non stick spray (or grease with a little oil). Place your bell peppers into your casserole dishes.
In a large skillet, heat oil. Add onion, garlic and chopped peppers and season with salt and pepper. Add ground bison or beef and brown until completely cooked through. Season with dried oregano, salt and pepper and adjust to your taste.
In a large bowl combine rice, cooked bison or beef mixture and Parmesan cheese. Spoon mixture evenly into peppers. Top peppers evenly with tomato sauce. Rinse remaining tomato sauce in can with about 1/3 cup of water and distribute to bottom of casserole dishes. Cover tightly with aluminum foil and place in oven.
Bake for 1 hour. Take off foil, top each pepper with a bit of mozzarella cheese and cook for 5-10 more minutes until cheese is completely melted.
Follow AggiesKitchen on Instagram and show us what recipes you are making from the blog! Use the hashtag #aggieskitchen - I'd love to see what you are cooking up!
Follow Aggie's Kitchen's board Healthy Recipes on Pinterest.