Bbq Pulled Pork and Chipotle Onion Sandwiches
I learned how to make pulled pork sandwiches last year and am so glad I did. This has got to be one of the best ways to feed a small crowd, especially one over for a sporting event such as Super Bowl. It's no fuss…you let your pork roast (I use Boston Butt) cook all day in the slow cooker…the meat will be moist, tender and ready to serve on buns with your favorite sauce by game time. This time, I kicked it up a notch by adding sweet and spicy caramelized onions to the already tasty sandwich.

This sandwich is my entry into The Recipe Girl's
Ultimate Super Bowl Party Recipe Smackdown.
She's hosting this even in conjunction with Sam's Club and
is giving away a
$250 Sam's Club Gift Card to a winner!
Go to The Recipe Girl's blog on Friday, January 30th
to see the amazing roundup of Super Bowl recipes!
BBQ pulled pork is always a crowd pleaser, and adding these chipotle onions to your sandwiches will put them over the top. The recipe feeds a lot so use it when you are entertaining a group or you could always freeze the leftover BBQ pulled pork for future recipes.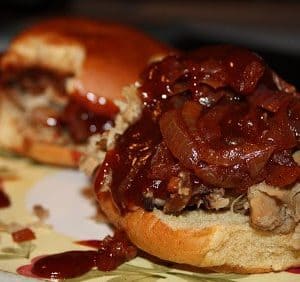 Ingredients:
For the pork:
1 Boston butt or pork shoulder roast (4-6lbs, depending on the size of your slow cooker)
1 large onion, sliced
salt and pepper to taste
3-4 whole, crushed garlic cloves
1 cup water
your favorite Barbeque sauce
For the chipotle onions:
1 large red onion, thinly sliced
1 large yellow onion, thinly sliced
1-2 tablespoons of oil
2 teaspoons of chipotle chili powder
couple - few dashes of Tabasco Chipotle hot sauce
Directions:
Place pork roast in the slow cooker; add water, sliced onion, salt and pepper and garlic cloves.
Cover and cook on low for about 9 to 11 hours, or until very tender. Drain all juices off, discard any fat and bone. Shred or chop pork (you can do this by taking pork out of slow cooker and placing onto a baking sheet). Place pork back into slow cooker and continue cooking on high for about 1 hour.
Prepare onion topping by adding 1-2 tablespoons of oil in non stick skillet over medium high heat. Add onions to pan, salt and pepper to taste. Continue to cook for approximately 10-15 minutes, or until soft. Add 2 teaspoons of chipotle chili powder and a couple of dashes of Tabasco Chipotle sauce to onions. Combine and continue to cook for another 10 minutes. If onions are sticking to bottom of pan, deglaze by adding a couple of tablespoons of apple cider vinegar to pan.
Serve shredded pork on potato rolls with your favorite barbeque sauce, top with caramelized chipotle onions.
Follow AggiesKitchen on Instagram and show us what recipes you are making from the blog! Use the hashtag #aggieskitchen - I'd love to see what you are cooking up!