Banana and Coconut Butter Smoothie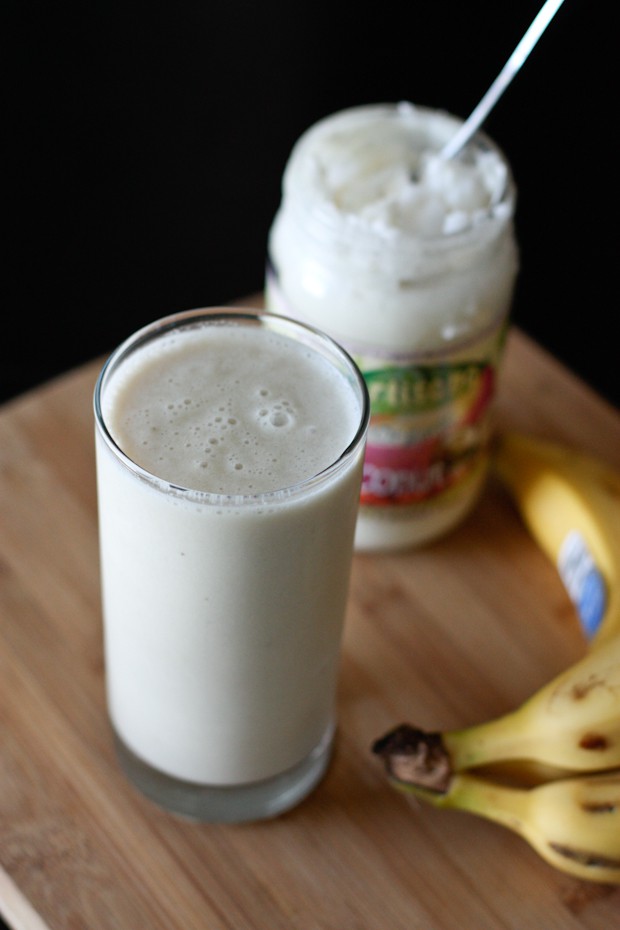 There's a new butter in town folks, and it's made with one of my most favorite things in the world – coconut. Coconut butter may not be all that new to some of you, but it's new to me. I've seen it popping up around here and there and I finally broke down and bought some today. At first, I didn't see much of a difference flavor wise or texture wise as coconut oil, and I felt confused. But as I dug my spoon in a little deeper into the jar I saw a slight change of color and I knew then that I had found gold. Holy cow, this stuff is good (if you love coconut that is).
What is coconut butter? Well, it's basically just the flesh of the coconut ground up and processed until creamy – similar to nut butter. You get all the nutrition of eating pure raw coconut into a small amount that can be used as a spread or as a supplement to meals such as smoothies, granola bars or even oatmeal. Coconut is full of good stuff – lots of fiber, vitamins & minerals, along with a little protein and good for you fat.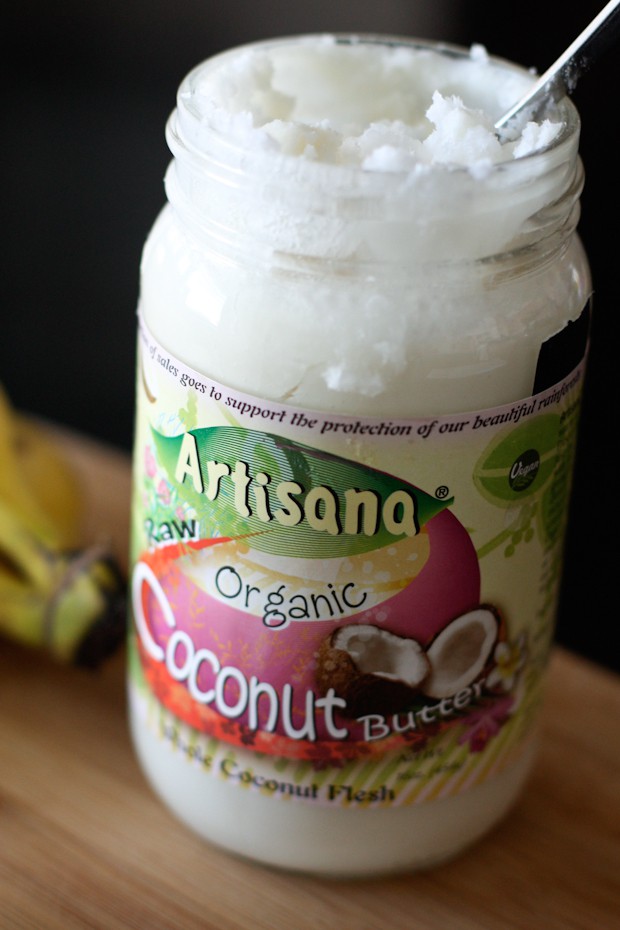 When I got home with my jar of gold I immediately knew I wanted to add it to a smoothie. I love simple banana smoothies, especially right after a morning workout. This smoothie isn't your typical thick smoothie – it's light and refreshing and makes a perfect snack for those in between meal times. Enjoy!
So tell me, am I the last person on Earth to try coconut butter? If you've had it, tell me how you like it!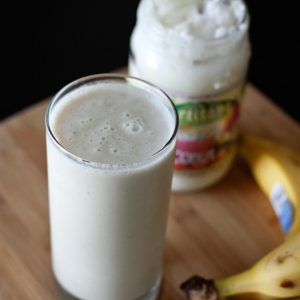 Ingredients:
8 oz unsweetened vanilla almond milk
1 frozen banana
1 tablespoon coconut butter
4-5 ice cubes
Directions:
Place almond milk, banana and coconut butter into blender and process until smooth. Add ice cubes to blender and process again until combined completely.
Tip: Frozen bananas are a great addition to smoothies. I always have a ziplock full of peeled banana halves in my freezer to have on hand to add to smoothies or to sweeten up oatmeal.
Follow AggiesKitchen on Instagram and show us what recipes you are making from the blog! Use the hashtag #aggieskitchen - I'd love to see what you are cooking up!
More coconut butter love!
How to Make Coconut Butter | The Kitchn
Coconut Butter Granola | How Sweet It Is
Toasted Coconut Butter | Cookie and Kate
Coconut Cookie Dough Balls | Chocolate Covered Katie
Vanilla Bean Coconut Butter Cups with Chocolate Peanut Butter | Edible Perspective
Homemade Coconut Butter over Roasted Sweet Potatoes | Edible Perspective