5 Ways To Get Out Of A Cooking Rut (and a Recipe for Hungarian Goulash with Peas and Carrots)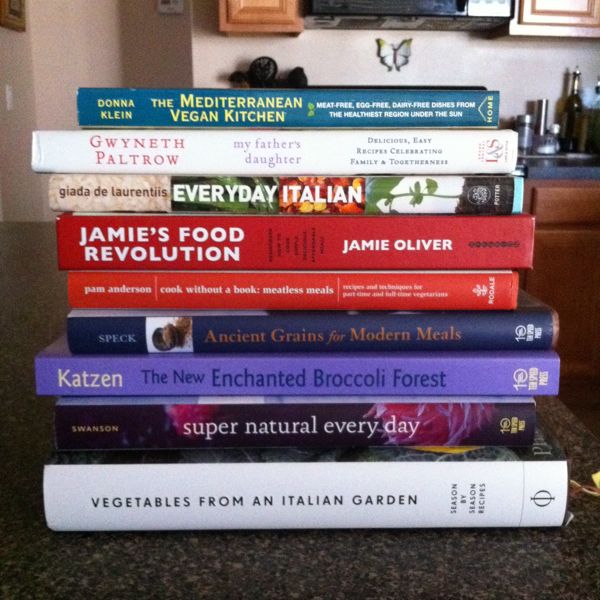 It happens to the best of us. We lose our cooking mojo. It happens to me all the time until I finally get to the point where I can't stand the idea of making another pita pizza for dinner (ok, so this is not entirely true, I am obsessed with pita pizzas) or wasting a million calories on mediocre takeout.
If you are the person in the household that does the majority of the cooking, getting into a cooking rut can really throw you off your game (especially if you are trying to make healthful choices and want the same for your family).  It takes a little effort to get yourself re-inspired, this is what tends to work for me:
1. Watch TV
In case you haven't noticed, there are a plethra of cooking shows on television. All kinds. I try to keep a good variety recorded on my DVR at all times in case of a lack of inspiration emergency. Before my kids took over the television in our household, Food Network was on all the time. All I have to say is thank goodness for the DVR, it's definitely one of the greatest inventions out there as far as I'm concerned.
Here are a few of my favorite shows that always get me in the mood to cook: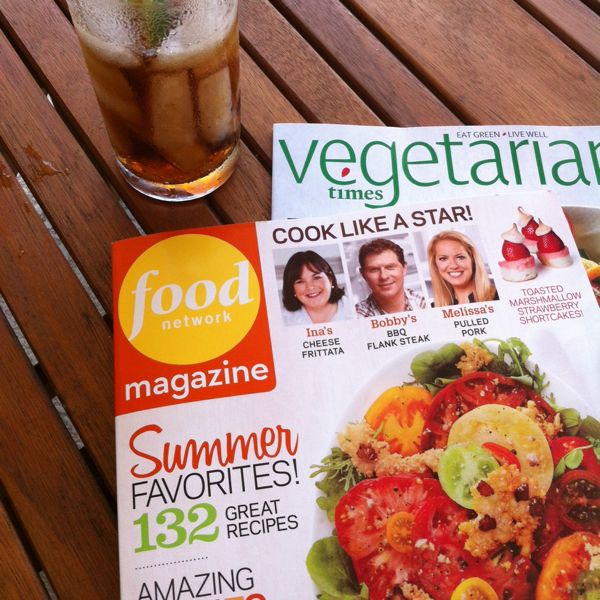 2. Browse your cookbook shelf or the library cookbook section (or magazine pile!).
I have been collecting cookbooks for as long as I've been married, so just about 10 years. I have some from way back in the day that I haven't looked at in forever and some that I have picked up more recently on a whim at Costco or on Amazon that I really haven't spent time looking through either. Pull a few off the shelf and browse through them while you're drinking your morning coffee or before bed, you never know what will catch your eye.
The library cookbook section is a total gold mine for cookbook addicts like me. There are a gazillion cookbooks to look through – it'll save you some money and you'll have access to so many different types, even ones you wouldn't necessarily want to buy for yourself.
A few beloved cookbooks on my shelf that need some attention:
3. Clean out your spice cabinet and pantry.
I promise if you set aside a few minutes (well maybe an hour or two) to really clean out your spice cabinet and pantry you will be amazed at how much better you feel. This is usually the first thing I do when my kitchen starts to feel bleh. It's almost guaranteed that you will find a couple of ingredients or spices that you didn't know you had. Finding pantry or spice gems could really turn into something super delicious. It's like magic. And of course it's always a good feeling and helpful to take inventory and know what you have and donate or discard of what you aren't going to use or has expired. A clean and organized pantry is a mood lifter for sure.
4. Challenge yourself.
After you clean out the pantry, why not challenge yourself to making a meal using just ingredients from your pantry? Or how about grabbing a spice jar you haven't used in a while and finding a recipe online or in one of your cookbooks that features it? My husband and I love love love Indian food and recently I picked a few of our favorite dishes out of a takeout menu and cooked them at home for the first time. They didn't turn out perfect, but it warmed me up to trying something new and wanting to make it better. And it was fun to cook out of my comfort zone.
5. Call out for help.
I called out for help a few weeks ago. I had a little heart-to-heart with my husband and told him how completely and utterly bored I was with coming up with ideas of what to cook for dinner. I know it's hard to imagine someone who loves food being tired of thinking about food, but hey, these things do happen. Meal planning burnout is a serious thing. So you know what my sweet husband did? On a morning where he left for work before I was up, I found a cookbook on the kitchen counter with a note sticking out of it that said  – "Make it happen! Blog it!"
That's teamwork. 🙂
And that's when this Hungarian Goulash with Peas and Carrots happened. It was even rainy and dreary on the day that I planned on making it so that I would feel better about making a meal like this in the middle of summer (now that is what I call real teamwork).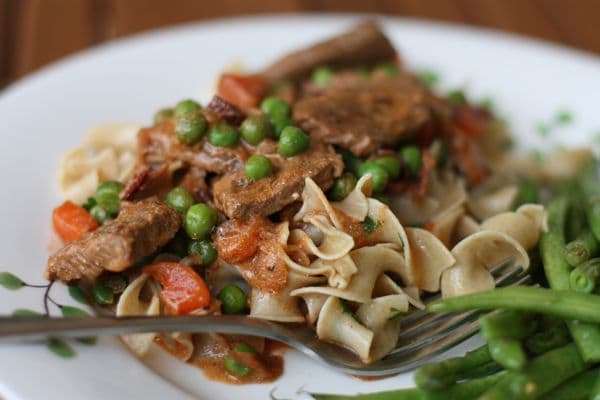 I have to admit, I wasn't overly excited when I saw that this was the recipe my husband chose – let's be real, I obviously don't cook a lot of beef and it's summer and I'm craving all things "fresh". But, it was nice to cook out of my comfort zone and to make a meal that I wouldn't necessarily want to cook for myself. I don't normally cook with a lot of beef (other than a burger or meatloaf here or there) and my daughter and husband LOVE it so it was a good feeling to have them excited about dinner. I also want to mention that the cookbook this recipe was adapted from is one of the very first cookbooks that I ever received from anyone. I think my mom gave it to me a very long time ago, I've had it since I first got married and there are so many smudge marks on the pages from a few favorites that I cooked over and over again. I haven't picked up this cookbook in years so it was nice to look through it again for ideas.
When making this, be sure you are correctly slicing your beef. Anytime I have a recipe that calls for slices or pieces of beef (for example, in a stir fry) I tend to always cut it the wrong way and it results in very tough pieces. I found this article on Slicing Meat Against The Grain that is helpful if you are like me and just can't figure it out.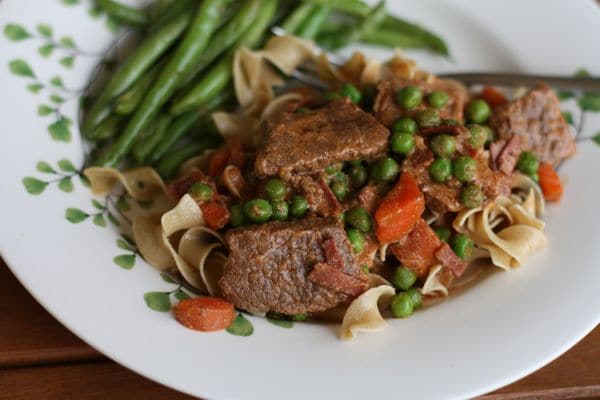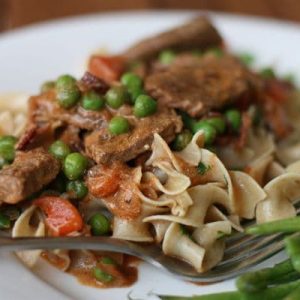 Ingredients:
3 strips turkey bacon, diced
1 onion, quartered then sliced
3 garlic cloves, crushed then minced
2 carrots, halved then sliced
1.5 lbs top round beef, cut into strips
1 1/4 teaspoons caraway seeds
2 tablespoons smoked paprika
pinch of salt and pepper
1 cup beef broth
3 big splashes of red wine vinegar
1 cup frozen peas, defrosted
12 oz package of whole wheat wide noodles (I use Ronzoni Healthy Harvest)
2 tablespoons olive oil
bunch of fresh Italian parsley, roughly chopped
1/2 cup light sour cream
Directions:
Heat a large Dutch oven or deep skillet over medium heat. Add bacon and cook for 3-4 minutes until browned.
Add onion, garlic and carrots and saute for few minutes until onions are soft and fragrant.
Add beef and cook for a few minutes until browned.
Reduce heat to low and add caraway seeds, smoked paprika, salt, pepper and beef broth. Cover and cook for about 25 minutes, stirring occasionally.
Add red wine vinegar, and cook for about 10 minutes more, uncovered.
While beef mixture is cooking, prepare your noodles according to directions. Once cooked, drain and add back to your pot, tossing with olive oil. Season with a small pinch of salt and pepper and gently toss with chopped parsley. Set aside.
Combine sour cream and remaining 1/2 cup of beef broth. Set aside.
Add defrosted peas to beef mixture last few minutes of cooking. Once peas have been warmed through, take pot off heat and add sour cream and broth mixture to pot and gently stir. Let sit until completely warmed through. Serve over noodles.
This recipe was adapted from Family Circle All-Time Favorite Recipes Cookbook
Follow AggiesKitchen on Instagram and show us what recipes you are making from the blog! Use the hashtag #aggieskitchen - I'd love to see what you are cooking up!
Do you ever find yourself in a cooking rut? How do you get out of it?