Chicken Piccata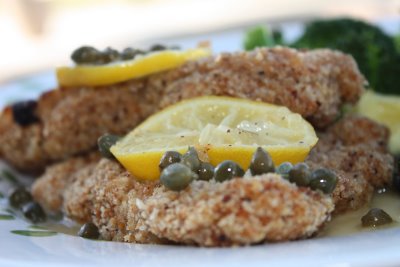 One of my all time favorite dishes to make is Chicken Piccata.  I love pretty much every layer of flavor that goes into a dish like this…the salty capers, the freshness from the lemon juice, and of course the white wine and butter that just balances it all out.  The piccata sauce is so versatile in that it can pretty much be made with anything…for instance this Grouper Piccata.  I have had Shrimp Piccata on the brain for a while now too…and hope to get to cooking it in the near future.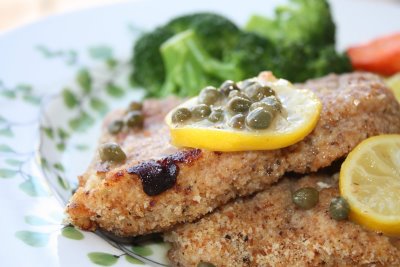 A dish like this isn't too hard to learn to make, and can be pretty impressive when having friends over for dinner.  Serve it with pretty steamed vegetables and a salad and you'll feel really good about everything on your plate.
If you don't have an open bottle of white wine hanging around (I'm not drinking much white right now for some reason…because it's winter maybe?) Holland House White Cooking Wine is a great pantry staple to have around.  You can use it in pretty much any dish that calls for white wine such as my favorite Linguini with White Clam Sauce recipe or this Chicken with Artichokes dish.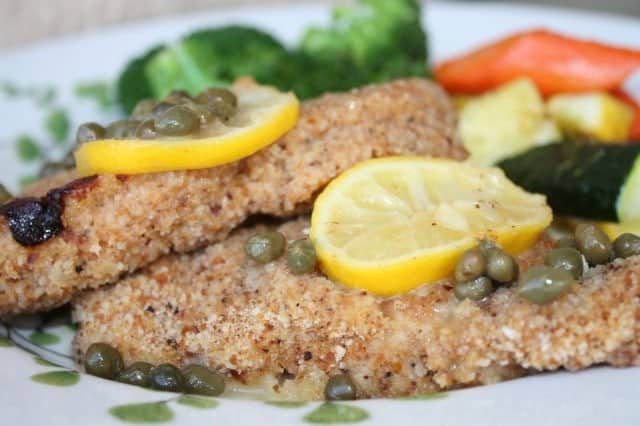 If you need ideas on what to cook with vinegars and cooking wines visit Holland House's website or Facebook page where you can find recipes, shop for vinegars and cooking wines or sign up for their SPLASH Recipe Club.
(Disclaimer:  Holland  House provided me with a generous sampling of products and compensation.  My opinions, as always, are my own.)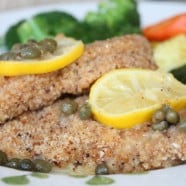 Ingredients:
2 split (1 whole) boneless, skinless chicken breasts

Kosher salt and freshly ground black pepper

1/2 cup all-purpose flour

1 extra-large egg

1/2 tablespoon water

3/4 cup seasoned dry bread crumbs

Good olive oil

3 tablespoons unsalted butter, room temperature, divided

1/3 cup freshly squeezed lemon juice (2 lemons), lemon halves reserved

Sliced lemon, for serving

Chopped fresh parsley leaves, for serving
Directions:
Preheat the oven to 400 degrees F. Line a sheet pan with parchment paper.
Place each chicken breast between 2 sheets of parchment paper or plastic wrap and pound out to 1/4-inch thick. Sprinkle both sides with salt and pepper.
Mix the flour, 1/2 teaspoon salt, and 1/4 teaspoon of pepper in a shallow plate. In a second plate, beat the egg and 1/2 tablespoon of water together. Place the bread crumbs on a third plate. Dip each chicken breast first in the flour, shake off the excess, and then dip in the egg and bread crumb mixtures.
Heat 1 tablespoon of olive oil in a large saute pan over medium to medium-low heat. Add the chicken breasts and cook for 2 minutes on each side, until browned. Place them on the sheet pan and allow them to bake for 5 to 10 minutes while you make the sauce.
For the sauce, wipe out the saute pan with a dry paper towel. Over medium heat, melt 1 tablespoon of the butter and then add the lemon juice, wine, the reserved lemon halves, 1/2 teaspoon salt, and 1/4 teaspoon pepper. Boil over high heat until reduced in half, about 2 minutes. Off the heat, add the remaining 2 tablespoons of butter and swirl to combine. Discard the lemon halves and serve 1 chicken breast on each plate. Spoon on the sauce and serve with a slice of lemon and a sprinkling of fresh parsley.
Note: Ina Garten's original recipe does not include capers, I love capers and added about 2 tablespoons into the sauce at the same time the lemons juice is added.
Recipe from Ina Garten, Barefoot Contessa at Home or Food Network
Are you following me on Instagram, Twitter, Facebook and Pinterest? If you'd like to subscribe to Aggie's Kitchen and have each post delivered straight to your e-mail box, then please add your email here. Happy cooking!
There are affiliate links in this post. I make small earnings through any purchases made through these links. Thank you for supporting Aggie's Kitchen!
23 Responses to "Chicken Piccata"
Leave a Comment