Healthy Broiled Salmon Gyros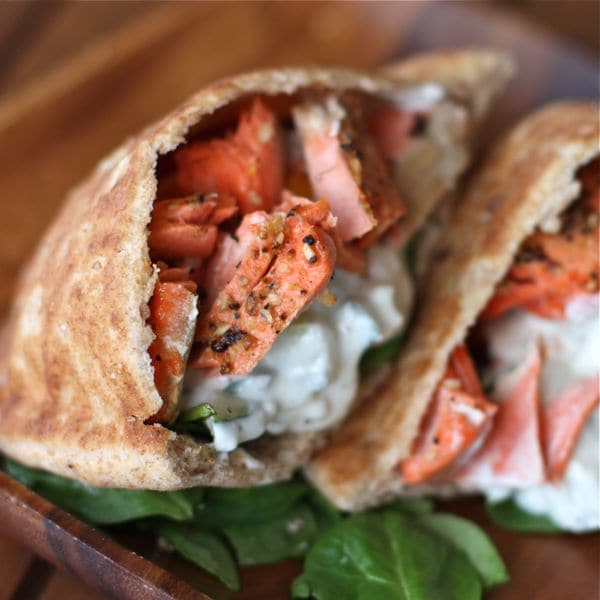 Do you remember that amazing Cucumber and Feta Greek Yogurt Dip I posted about last week? Well, it's back. It's back in the form of a "sauce" that elevated what started as very everyday broiled fish and veggies for dinner into a pita sandwich that just screamed – awesome.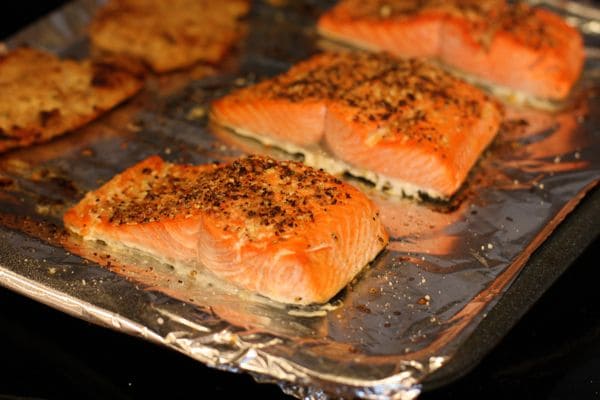 I ended up making up a second batch of the dip recently because I wanted to have it in the fridge for hummus and veggie pita sandwiches and for something to dip my carrot and celery sticks in when I experienced a snack attack. In addition to all that, it became an amazing topping to these really tasty and super easy Broiled Salmon "Gyros". This dinner whipped itself up so fast that it's going to definitely happen again in my kitchen real soon. My husbands words after eating it were – "You ARE going to put this on the blog, right?".
I love it when he says that.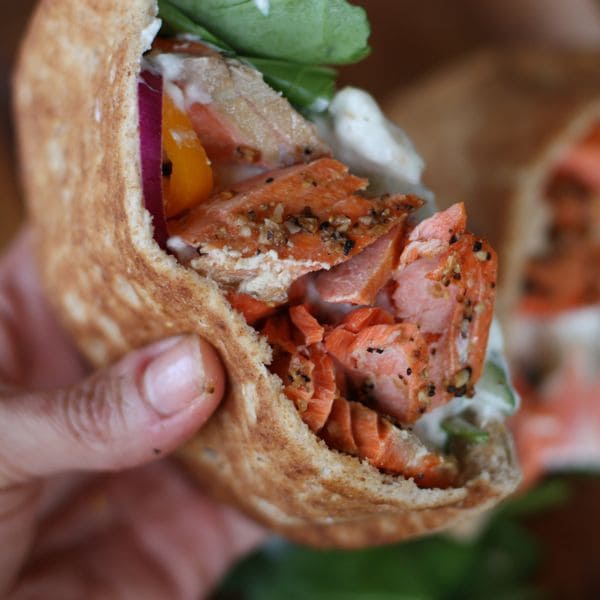 Healthy Broiled Salmon Gyros
A fresh spin on the traditional lamb or chicken gyro. Prepare your veggies and dip while salmon is in the broiler for a healthy and quick weeknight dinner.
Ingredients
1 lb wild salmon filets
lemon pepper seasoning
pinch salt and pepper (check to see how much salt is already in your lemon pepper seasoning first)
drizzle olive oil
2 - 3 whole wheat pita pockets (split into 4 - 6 halves)
fresh baby spinach leaves
sliced red bell pepper
sliced red onion
lemon wedges, for serving
Instructions
Preheat your broiler.
Place salmon filets on lightly greased aluminum foil lined broiler pan or baking sheet. Pat salmon filets dry with a paper towel, then sprinkle liberally with your favorite lemon pepper seasoning, salt and pepper. Drizzle a little olive oil over each salmon filet. Place under broiler and cook for 8-10 minutes or until salmon is turns lighter pink and flakes with a fork (cooking time for fish always depends on how thick your fish is). Set aside.
Start assembling your "gyros" by splitting and opening your pita pockets and stuffing with spinach leaves, sliced pepper and onion, and a tablespoon (or two) of Cucumber and Feta Greek Yogurt Dip. Take your salmon and gently flake into large pieces and place into pita sandwiches. Squeeze fresh lemon over salmon pitas and enjoy.
http://aggieskitchen.com/2012/09/20/healthy-broiled-salmon-gyros/
PS: If you are a blogger looking to learn more about WordPress, or someone who wants to start using WordPress, then check out this interactive WordPress Workshop created and facilitated by my friend and website designer, Zesty. He's offering a beginner level and an advanced level class and you can register now for the first class begins in mid-October.
33 Responses to "Healthy Broiled Salmon Gyros"
Trackbacks/Pingbacks

Leave a Comment