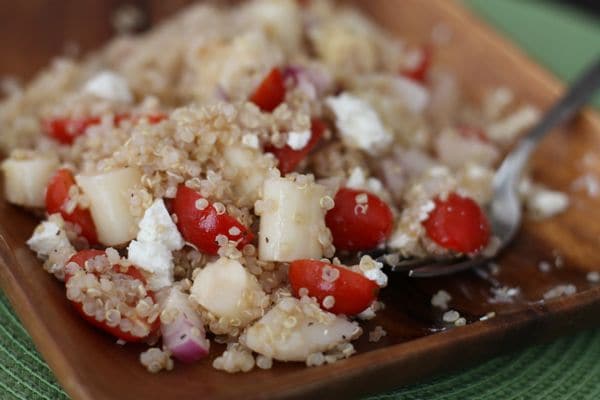 It may be back to school here, but to me it's feeling like the dog days of summer that's for sure. It's hot, it's muggy and I am finding myself wanting to be outside in the fresh air, but quickly going back in once I'm out there because I feel like I'm melting.
It is what it is. It's August. (and Florida will be feeling this way until at least mid-October so I promise I won't complain anymore.)
With the kids at school, I'm back to dining alone at lunch time. Lunch has always been one of my favorite meals of the day because (and I'm trying not to sound selfish when I say this) but it's my meal – meaning, it's the one meal of the day that I am not thinking of anyone else's likes/dislikes/wants/not wants, it's all about me.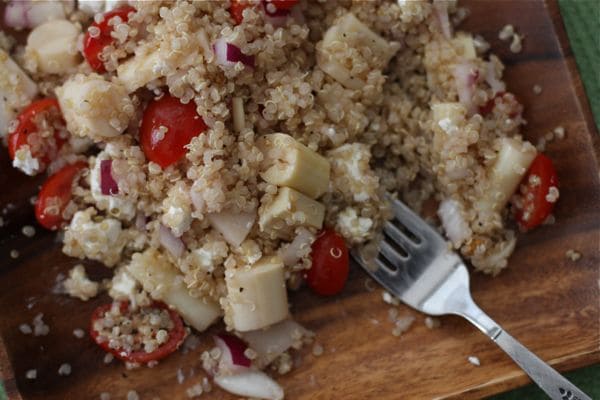 Since no one gets excited about quinoa salad in my house other than me, this light and summery Toasted Quinoa Salad is the perfect lunch to get me through this hot week. I made it on Monday, stuck in the fridge and have picked on it for lunch every day since. If you haven't ever toasted quinoa – or even better infused it with crushed garlic – then you should definitely try it. These two things boost the flavor of the quinoa itself just enough and makes a salad full of simple ingredients extra extra good.
Toasted Garlicky Quinoa Salad with Tomatoes and Hearts of Palm
A refreshing and light quinoa salad perfect as a side dish or a light meal.
Ingredients
1 cup uncooked quinoa
2 cups water
1 clove garlic, crushed (I use the back of my knife)
1/2 pint grape tomatoes, halved
1/2 red onion, chopped
1 14 oz can sliced Hearts of Palm, rinsed and drained
3 tablespoons olive oil
3-4 big splashes of red wine vinegar
good pinch salt and pepper, to taste
4 oz goat cheese, crumbled
Instructions
To prepare toasted quinoa: Heat a small saucepan over medium heat. Add uncooked quinoa to pot and stir for 1-2 minutes, this will "toast" your quinoa. Add 2 cups water and crushed garlic clove. Cook according to directions.
Once quinoa is cooked, set aside until completely cooled.
In a large bowl, combine cooled quinoa, tomatoes, Hearts of Palm, red onion, olive oil and red wine vinegar. Gently toss to combine. Season well with salt and pepper and toss again.
Crumble 1 oz of goat cheese over each serving. Can be served at room temperature or chilled.
http://aggieskitchen.com/2012/08/16/toasted-garlicky-quinoa-salad-with-tomatoes-hearts-of-palm-and-goat-cheese-and-sea-turtle-rescue/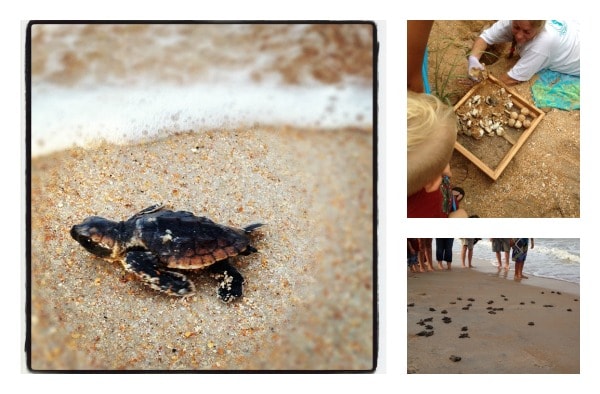 My sister shared with me something cool she did with her family earlier this week. She was part of a group that adopted a sea turtle nest through the Volusia Flagler Turtle Patrol and this past week assisted in helping out a nest that well…needed helping. There were little survivors trapped in the nest they adopted so the Turtle Patrol dug up the nest and released the little hatchlings off to sea. Seriously, how awesome is that?