Baked Lemon Pepper Sprout Chips and a Field Trip
Can we just talk about these green little gems for a second? They are sprout chips! Yep…baked brussels sprout leaves that turn into crunchy little chips! I just came across them recently over on the blog inspiredRD and they made my head spin a bit. I mean, really, I thought kale chips were genius…these are right up there in the same category! (Speaking of kale chips…have you tried them? My friend Alison just posted a recipe for kale chips the other day, and I encourage you to try them if you haven't. I dip mine in ketchup and can seriously eat a whole pan of them in one sitting…the kids love them too!)
I baked these sprout chips up the other day with some of my favorite lemon pepper seasoning (I just can not get enough of that stuff) and they were a perfect snack to munch on. My kids have never tried brussels sprouts and this might be the way to do it. I'll report back and let you know what they think.
I posted the recipe for Baked Lemon Pepper Sprout Chips are on Family Kitchen, hop on over and check it out.
************************************************************************************************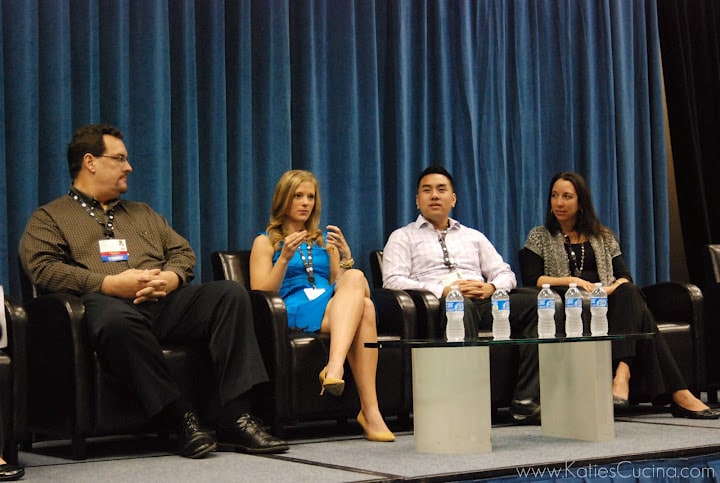 (Photo Credit: Katie's Cucina)
By the way…a couple of weeks ago I was asked by the organization Produce For Kids to be a speaker on a panel for an educational workshop called "How Food Bloggers are Influencing Produce Consumers and How to Create Advocates for your Brand" at the Southeast Produce Council's Southern Exposure Conference in Tampa, FL. I sat on the panel alongside Jeff Houck, food writer for The Tampa Tribune and author of the blog The Stew as well as bloggers Julie of Peanut Butter Fingers and Ricky of Tasty Chomps.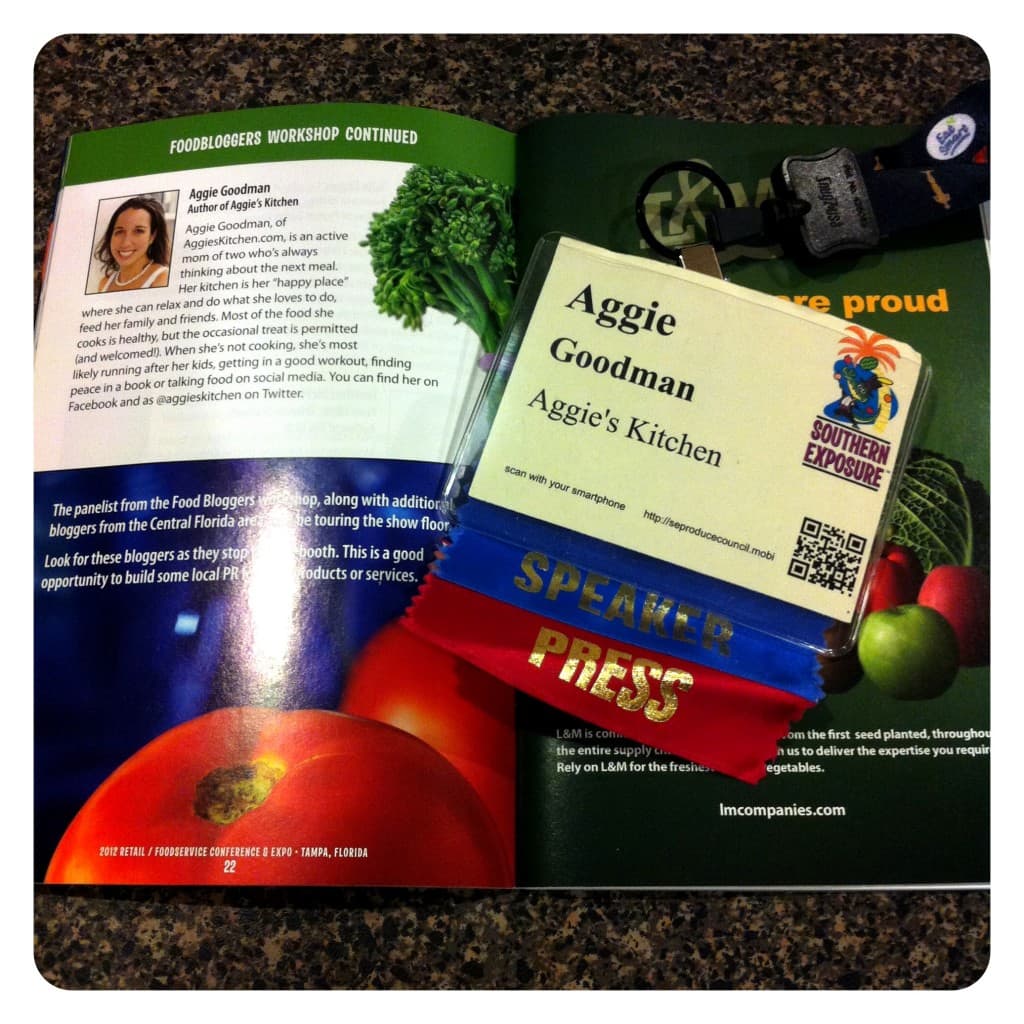 We had a great discussion answering several questions from moderator Heidi McIntyre of Produce For Kids as well as from the audience from how and why we started our blogs to how we deal with PR pitches to how companies in the produce industry can effectively work with bloggers. I had a great experience and really enjoyed my time at the conference (although, not going to lie, I was incredibly nervous sitting up on that stage with a microphone!!!).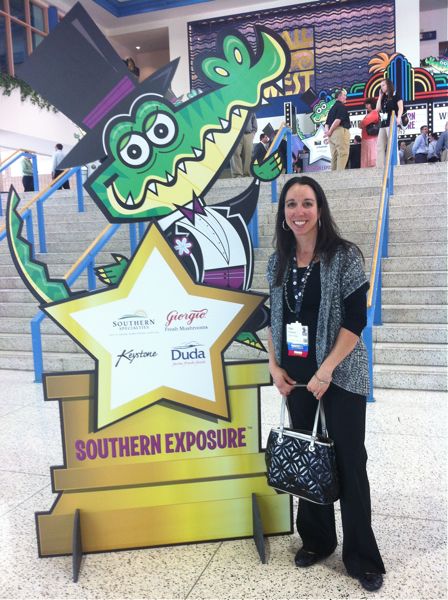 (I have a thing for cute Gators.

)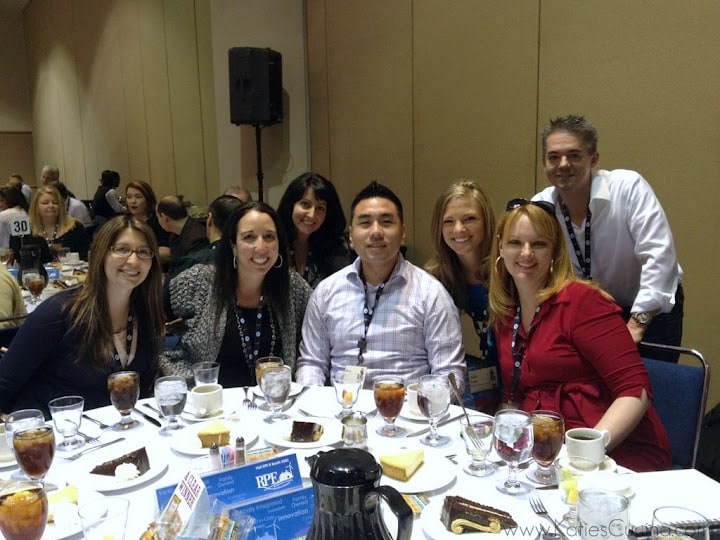 (Lunch with bloggers Katie, Dawn, Ricky, Julie, Julia and Rod)
After our panel discussion, lunch and a brief tour of the conference floor I spent the rest of my time with my friend and fellow produce lover Katie of Katie's Cucina. She's visited us here at AK before and we've met in person a couple of times over the last year. Katie and I both share a slight obsession with fruits and vegetables and make each other feel less weird about it.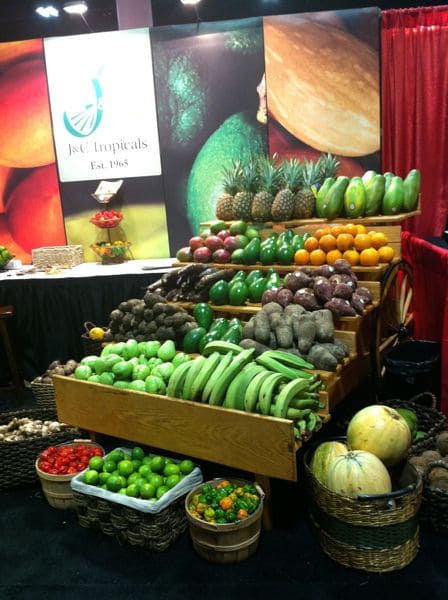 I couldn't have spent my time at a produce conference with better people. You'll have to check out Katie's recap and photos of the conference here on her blog, she did a great job of showcasing our day, as well as all the fruits, veggies and products we sampled. You can also read Julie's recap on the conference here on Peanut Butter Fingers as well as Ricky's recap here on Tasty Chomps.
36 Responses to "Baked Lemon Pepper Sprout Chips and a Field Trip"
Trackbacks/Pingbacks

Leave a Comment