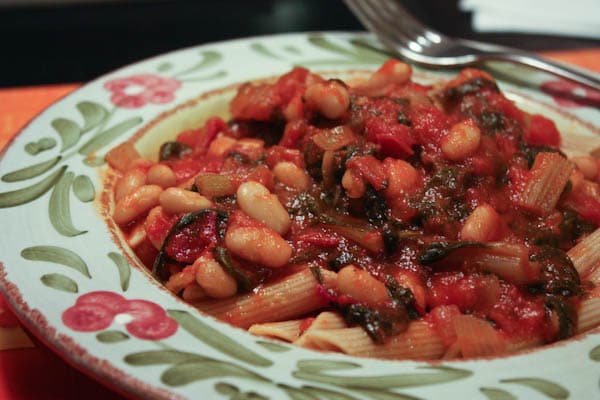 I like my greens. Swiss chard in particular. I only started eating swiss chard last year and now that I've been finding it more often in the produce market I like to shop at, I pretty much cook them up once or twice a week.
In case you didn't know, greens are good for you…all kinds of good stuff in greens. So go ahead and eat 'em.
Sometimes I get stumped on how to eat my greens though. I've sauteed them in a little olive oil and aleppo pepper and put them on pizza (OMG) and I've added them to soups. This time around, I put them in sauce.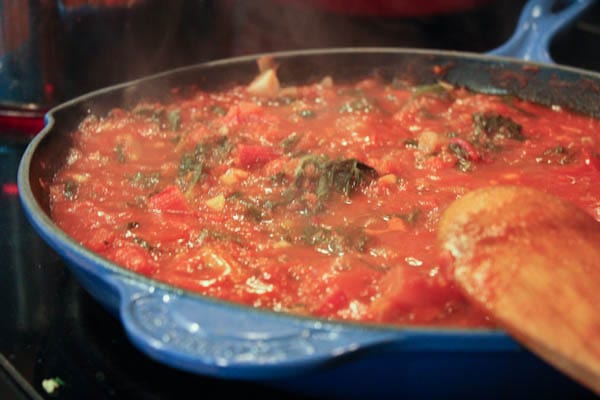 I found a recipe in Everyday with Rachael Ray (I love this magazine btw, I always find recipes that I want to make when I buy her mag…good easy recipes!) for Chard with Red Sauce and I made it my own by eliminating the bacon (I know, gasp!!), adding a can of rinsed and drained white beans and serving it over whole wheat pasta.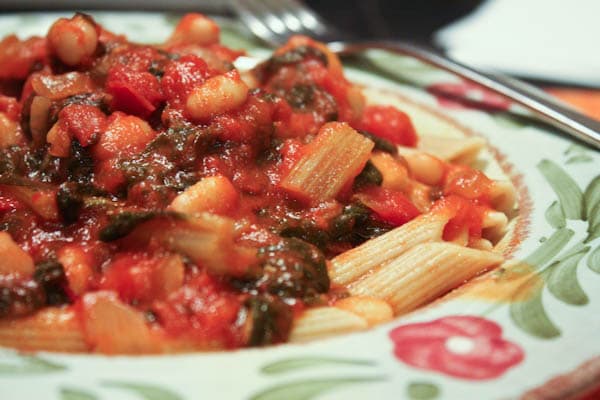 I could eat bowl after bowl of this pasta. It was so good.
Swiss Chard with White Beans in Tomato Sauce over Pasta
So hearty and healthy, I love the combinations of greens, tomato sauce and beans in this recipe. Hope you enjoy it too! Recipe from Aggie's Kitchen, inspired from Everyday with Rachael Ray magazine
Ingredients
2 teaspoons olive oil
1 large onion, chopped
3-4 cloves garlic minced
1 bunch swiss chard, shredded
1 28oz can of crushed tomatoes
1 cup of water (added to crushed tomato can to pick up remnant flavor)
1 15 oz can of Bush's Great Northern Beans, drained and rinsed
a pinch of salt and fresh ground pepper, to taste
red hot pepper flakes, to taste
1/2 box of whole wheat pasta
Instructions
Prepare pasta according to directions.
While pasta is cooking, in a large saute pan, heat olive oil and begin to saute onion and garlic. Add a pinch of salt and pepper. Cook onions until soft, about 3-4 minutes. Add chard to pan and saute until soft and wilted, about 8-10 minutes. Add can of tomato sauce with additional water to pan. Stir and bring to a simmer. Add can of white beans to sauce and cook for about 2-3 more minutes until sauce is slightly thick and flavors have come together.
Drain pasta and drizzle with a little olive oil. Serve sauce over pasta with red pepper flakes and parmesan cheese.
http://aggieskitchen.com/2011/10/26/eat-your-greens-swiss-chard-with-white-beans-in-tomato-sauce-over-pasta/